The "Global CubeSat Market: Focus on Sizes (1U, 2U, 3U, 6U, and Other Sizes),Subsystems, and End Users (Academic, Commercial, Government, Defense,and Non-Profit Organization) - Analysis and Forecast: 2018-2022" report has been added to ResearchAndMarkets.com's offerings.
During initial years of the development of satellite technologies, the main focus of companies was on developing heavy- and large-sized satellites. However, over a period of time, the satellite industry has witnessed several significant technological advancements that have created extensive demand for smallsats as well as cost-effective launch solutions.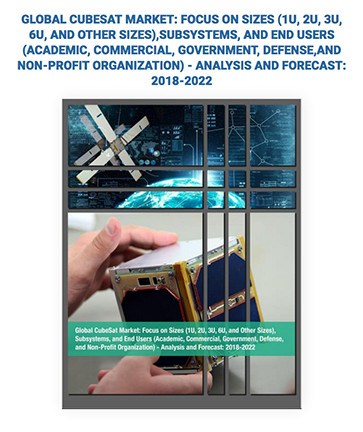 Smallsats include cubesats, which are special types of cuboid-shaped smallsats, created in units of a 10x10x10 centimeters cube. The market of cubesats is expected to show robust growth rate due to increasing rate of investments in the space industry by the government organizations.
Extensive demand for smallsat constellations, technological expansion in electronic components for cubesats, imminent need for satellite miniaturization in the space industry, and increase in space missions for academic research are driving the growth of the market. Moreover, affordable launch of cubesats and regulate the increasing amount of space debris act as major challenges to the market. The cubesat market reported a revenue of US$100.5 million in 2016 and the commercial end user is expected to generate the highest revenue by 2022.
The commercial end user is expected to witness a high growth rate owing to increasing research and development (R&D) activities to develop CubeSat constellation for varied applications such as navigation, provision of global wireless internet system, and telecommunication, among others.
Companies mentioned in this report include...
Clyde Space Ltd.
EnduroSat AD
GomSpace Sweden AB
Group of Astrodynamics for the Use of Space Systems Srl
Harris Corporation
Innovative Solutions in Space BV
Interorbital Systems Corporation
NanoAvionika, LLC
Space Systems/Loral, LLC
Tyvak Nano-Satellite Systems, Inc.
The key topics include...
1 - Research Scope & Methodology
2 - Market Dynamics
3 - Competitive Insights
4 - Industry Analysis
5 - Global CubeSat Market
6 - Global CubeSat Market by Size
7 - Global CubeSat Market by Subsystem
8 - Global CubeSat Market by End User
9 - Global CubeSat Market by Region
10 - Case Study: Global Navigation Satellite System (CYGNSS)
11 - Company Profile
12 - Appendix
For more information about this report , please visit https://www.researchandmarkets.com/research/5rwgzr/global_cubesat?w=4
---

Trends such as this, which are becoming increasingly common in the SATCOM ecosystem, will be discussed in depth at Satellite Innovation 2018 by the world's most qualified experts. Be sure to reserve your ticket soon! (SatInnovation.com)