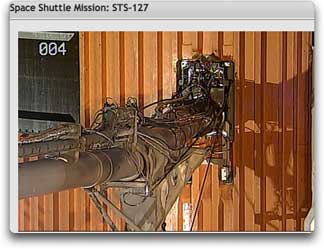 Frustrating, no doubt, however the next available date for the Endeavour's STS-127 mission is July 11.
NASA postponed the launch of space shuttle Endeavour's STS-127 mission Wednesday because of a leak associated with the gaseous hydrogen venting system outside the shuttle's external fuel tank.
This close-up image reveals the Ground Umbilical Carrier Panel area on space shuttle Endeavour's external fuel tank. Image credit: NASA TV
The
July 11 date comes after the end of an orbital sun-angle condition called a beta angle cut-out, which occurs between June 22 and July 10.
The cut-out
creates a thermal condition that prohibits shuttle and space station docked operations.
The gaseous hydrogen venting system is used to carry excess hydrogen safely away from the launch pad. Wednesday's leak is similar to one that prevented Endeavour's launch on June 13.
The
16-day mission to the International Space Station will feature five spacewalks and complete construction of the Japan Aerospace Exploration Agency's Kibo laboratory
. Astronauts will attach a platform to the outside of the
Japanese module
that will allow experiments to be exposed to space.