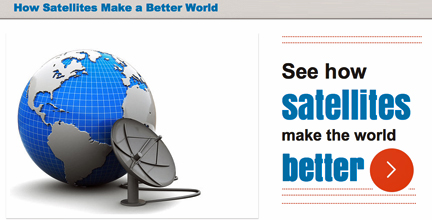 [SatNews] Freedom, Health, Safety and Prosperity—just a few of the major benefits highlighted on SSPI's new "Better Satellite World"...
The Society of Satellite Professionals International (SSPI) has launched "How Satellites Make a Better World" in order to catalog the enormous contributions of satellite technology to human welfare, the economy, peace and security. This new infosite is part of a long-term campaign, "Making the Case for Satellite," which seeks to raise awareness of satellite as one of the world's essential communications platforms, in support of the industry's growth and in defense of its right to spectrum. To carry out the brand-building campaign, SSPI has joined in an alliance of industry associations that include the Cable and Satellite Broadcasting Association of Asia (CASBAA), the European Satellite Operators' Association (ESOA), the Global VSAT Forum (GVF), the Satellite Industry Association (SIA), and the World Teleport Association (WTA)—all of these organizations contribute content and spread the campaign's message.
"In the short term, the Better World Web site will help explain why the industry's spectrum needs must be taken seriously," said executive director Robert Bell. "In the long term, the campaign will explain why satellite is the technology of choice for so many vital applications, for the benefit of new customers and young talent we need to attract in coming years."
The stories of satellite making a better world come from companies in the satellite industry, academic researchers, nonprofit associations and the news media. SSPI invites the submission of stories by emailing makingthecase@sspi.org. At the time of launch, the website features six stories, with many more to come:
• The Final Battle to End Polio
• Bringing Order to Disaster
• Rallying the World to Combat Climate Change
• Uniting a Nation Divided by Decades of War
• What is a Game Worth?
• Connecting to Economic Growth
The infosite's section on Polio reads, "Mr. Gates outlined the basics in a 2012 interview with author Rick Smolan. 'The Environmental Systems Research Institute (ESRI) creates these incredibly detailed satellite maps for governments,' he [Gates] said. 'They found that there were villages in Nigeria, which has the highest rate of polio resurgence in the world, that have never shown up on any map. No one in the government knew they were there. ESRI can recognize the shape of huts and pathways. They updated the satellite maps and handed out 10,000 GPS-enabled cell phones to polio workers. They could see where the workers were in real time, and make sure they got to each of the houses.'"
In addition to the stories, the infosite also launched with an article titled "Why Satellite Spectrum Matters," which looks at the issue of exclusivity of certain frequency bands for satellite usage and why this is necessary.
Advocates Making the Case for Satellite Founding Associations:
For more information or to submit your story, please visit the Better Satellite World infosite at http://www.BetterSatelliteWorld.com/