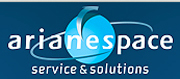 The protective fairing is now in place, meaning the PerúSAT-1 and Terra Bella satellites will be sheltered during their initial climb-out from French Guiana on September 15 as the passengers for Arianespace's upcoming Vega flight.
Encapsulation, performed in the Spaceport's S3B preparation facility, marked completion of the payload integration phase for Arianespace Flight VV07, which will place the Peruvian Earth observation and Terra Bella spacecraft into LEO. The satellite passengers' arrangement places PerúSAT-1—a very high resolution optical observation spacecraft developed for Peru's CONIDA national space agency— in a dispenser system called VESPA (Vega Secondary Payload Adaptor). Terra Bella's spacecraft are in the upper position atop VESPA.
With the satellites now encapsulated in the payload fairing, this upper component of Vega— referred to as the "composite"—is ready for installation atop the launcher early next week. During the September 15 mission, separation of the payload fairing will occur approximately four minutes into the flight, once Vega has ascended through the atmosphere's denser layers.
Flight VV07 is scheduled for a nighttime liftoff from the Spaceport on the seventh overall launch for this lightweight vehicle. Vega is part of Arianespace's launcher family that also includes the medium-lift Soyuz and heavyweight Ariane 5. The four-stage Vega is delivered to Arianespace by Italy's ELV, which is production prime contractor.
To date, Arianespace has conducted six of 11 missions targeted for 2016, with Flight VV07 to mark the first liftoff with its Vega launcher this year. The company's launches accomplished so far in 2016 were:
Flight VA232, conducted on August 24 with an Ariane 5 to orbit the Intelsat 33e and Intelsat 36 telecommunications satellites for U.S.-based Intelsat
Flight VA230, on June 18, using an Ariane 5 to loft EchoStar XVIII for the U.S. EchoStar provider of satellite/video delivery solutions, and the BRIsat financial communications relay platform for Indonesia
Flight VS15, on May 24, orbiting two Full Operational Capability (FOC) satellites for Europe's Galileo space-based navigation system with Soyuz
Flight VS14, lifting off on April 25, utilized Soyuz to deploy the European Sentinel-1B radar-equipped Earth observation platform, along with the French Microscope scientific payload and Europe's Fly Your Satellite! educational cubesats
Flight VA229, performed with Ariane 5 on March 9 to orbit the EUTELSAT 65 West A telecommunications relay satellite for Europe's Eutelsat satellite operator
Flight VA228, on January 27, orbiting the Intelsat 29e telecom relay platform aboard an Ariane 5