[SatNews] SpaceX has confirmed it will target its next cargo mission launch to the International Space Station from Cape Canaveral Air Force Station in Florida, for 10:50 p.m. EDT, Sunday, March 30th.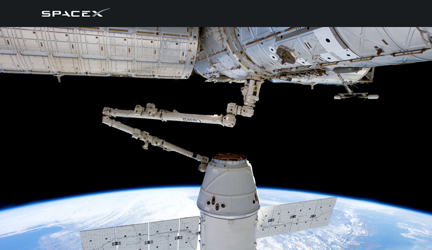 NASA Television launch coverage starts at 9:45 p.m. for the company's third contracted resupply mission to the orbital laboratory. A post-launch news conference will follow approximately 90 minutes after liftoff. If for any reason the launch is postponed, the next launch opportunity is 9:39 p.m. Wednesday, April 2, with NASA TV coverage starting at 8:30 p.m. NASA TV also will air a prelaunch news conference at 1:00 p.m. Saturday, March 29, at the agency's Kennedy Space Center in Florida. A 2:00 p.m. briefing on the science and technology cargo being delivered to the space station by SpaceX will follow.
A March 30 launch would result in SpaceX's Dragon spacecraft arriving at the station on Wednesday, April 2, at approximately 7:00 a.m. NASA TV coverage of rendezvous and berthing will start at 5:45 a.m. for a 7:00 a.m. capture. Coverage of Dragon's installation will begin at 9:30 a.m.
For an updated schedule of prelaunch briefings, events and NASA TV coverage items, visit: http://go.nasa.gov/1dsh9dp
For NASA TV schedule and video streaming information, visit: http://www.nasa.gov/nasatv