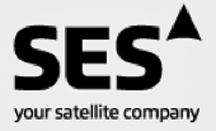 [SatNews] SES S.A. (NYSE Euronext Paris and Luxembourg Stock Exchange: SESG) announces the launch of a 24/7 multi-genre linear Ultra HD cable TV channel via satellite.

The new Ultra HD network is called High 4K TV and features a broad range of round-the-clock content from Ultra HD movies and TV shows to sports and documentaries. Content for the new High 4K TV channel will be delivered over the SES-3 satellite, one of three satellites (SES-1, SES-3, AMC-18) that make up SES's Ultra HD neighborhood at the centre of the orbital arc over North America. High 4K TV will be the latest channel to join SES's growing worldwide Ultra HD line-up. The trio of satellites at the core of SES's North America Ultra HD platform enable programmers to reach more than 100 million U.S. television homes through virtually every cable TV, IPTV and direct-to-home provider across the region.
SES has developed the first end-to-end solution capable of delivering linear live Ultra HD content to a cable system. The innovative Ultra HD platform was unveiled by SES and Harmonic at the NAB Conference earlier this year, followed by cable operator trials of the plug-and-play service and the launch of North America's first Ultra HD demonstration channels.
Executive Comments
"The new channel, with its breadth of programming, is another key step in helping cable operators through North America accelerate the delivery of linear live Ultra HD content to subscriber homes across the U.S.," said Steve Corda, Vice President of business development for SES in North America.
"This launch is a major step toward enabling the affordable and timely delivery of Ultra HD to cable homes across America," noted Justin Borrelo, Head of Business Development at High TV. "It is indeed a major milestone for us, as an international 4K channel, to be present in North America with SES. We are excited to be bringing the very best in lifestyle and entertainment programming to an audience that embraces entertainment as the very essence of their culture, and we look forward to expanding the delivery of High 4K TV programming to other regions around the world."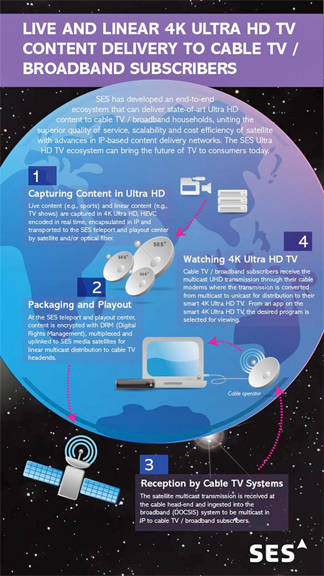 In additional SES news, the company also announces that TV Entertainment Reality Network (TERN) has contracted capacity under a long-term agreement to launch a new free-to-air channel, which will start to air in October 2015 in both HD and Ultra HD quality. The new channel will be exclusively available via satellite in Europe on ASTRA at 19.2 degrees East.
TERN, a Netherlands-based company, will disclose more details about the new channel during a press conference at MIPCOM in Cannes on October 5th.
Mariam Zamaray, Chief Executive Officer at TERN, said, "Our ambition is to broadcast premium programming in an immersive way in Ultra HD. Our aim is to change the way you watch television."
Ferdinand Kayser, Chief Commercial Officer, SES, said, "The new channel that TERN is launching will have outstanding picture quality in Ultra HD and revolutionize the TV viewing experience. 2015 is the year in which Ultra HD has become a reality for TV viewers in Europe, and we are pleased that the first three Ultra HD channels in Europe are broadcast via SES satellites."
A third activity from SES finds the company exhibiting at IBC 2015 with a series of innovative solutions for broadcasters, platform operators and content owners to distribute their content in a converging broadcast-broadband ecosystem: linear or on-demand, over satellite or Internet, on any device.
These demos are exhibited at the SES stand at IBC 2015 in Amsterdam and are managed by SES Platform Services, a wholly-owned subsidiary of SES. The demos include FLUID HUB, a "managed cloud" platform to play and deliver audio-visual content, LIQUID VOD (video on demand) and LUCID OVP (online video platform).
FLUID HUB provides customers with efficient, automated archiving, processing and distribution on a variety of video platforms, including fast uploading and editing of videos, images and metadata. Since its launch in April 2015, SES Platform Services is already serving over 20 VOD portals.
In addition to serving VOD portals, SES has also designed its own VOD solution, LIQUID VOD, to serve communities living in underserved areas where there is a lack of broadband internet connectivity. LIQUID VOD demonstrates how SES can provide an instantaneous and premium video experience on demand via satellite that can be used by DTH platform operators and broadcasters to differentiate their services.
LUCID OVD is an end-to-end online video solution, combining linear TV Streaming, catch-up TV and video on demand into one powerful online video platform. From content management and backend services to frontend application for mobile devices (iOS, Android) and TV screen (IP box), platform operators can complement their video business with online video and a multiscreen user experience, while broadcasters and content providers can set up an online video service to complement their DTH content.
The demos will be presented at the SES stand at Hall 1, stand 1.B51 during IBC 2015, Amsterdam.
The company also sees important steps and a continuous strong drive towards an accelerated uptake of Ultra HD, also known as 4K, by consumers, broadcasters and the industry. With the first Ultra HD channels on air, the innovative technology that allows for four times the resolution and picture sharpness of HD is gaining traction, especially in Europe, North America and Asia.
In the White Paper "Ready. Steady. Ultra HD," just published by SES, the leading satellite operator concludes that 2015 has seen significant breakthroughs for the technology and that satellite and SES are in the pole position to support and foster the new technology. Attractively-priced 4K/Ultra HD televisions are in stores, experimental live broadcasts for compelling content have gone off without a hitch, more channels featuring sports and lifestyle content are being launched, the latest Hollywood blockbusters are filmed in Ultra HD, and the UHD Blu-ray disc format is on its way. The dynamics driving the development of Ultra HD—demand, screens, content and broadcast techniques—are all coming together, reinforcing each other.
"Demos, content, high-technical standards, devices, delivery infrastructure— the elements that enable Ultra HD are falling into place. The dynamics driving Ultra HD development can be best described as a virtuous circle, composed of elements that mutually reinforce one another for bigger and better outcomes across business and consumer markets,'' the SES White Paper states. As a delivery infrastructure, SES believes that "Satellites are a natural platform for broadcasting Ultra HD content, thanks to their bandwidth availability and extensive footprints which cover countries and continents."