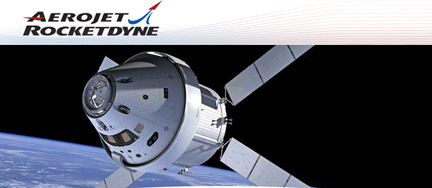 [SatNews] Aerojet Rocketdyne, a GenCorp (NYSE: GY) company, played a major role to successfully place a classified payload into orbit for the U.S. government with the inaugural launch of an RL10C-1 upper-stage engine.
The mission was launched from Vandenberg Air Force Base in California aboard a United Launch Alliance (ULA) Atlas V rocket, which also used Aerojet Rocketdyne helium pressurization tanks, four AJ60 solid rocket boosters and a dozen upper-stage thrusters used for roll, pitch, yaw and settling burns.
The RL10C-1 is a step toward the development of a common core upper-stage engine across ULA's fleet of Atlas and Delta rockets – a move designed to reduce Evolved Expendable Launch Vehicle (EELV) lifecycle costs. It is an extension of the RL10 family, which has helped place numerous military, government and commercial satellites into orbit, and powered space-probe missions to nearly every planet in the solar system.
Michael Popp, RL10C-1 program manager at Aerojet Rocketdyne, said, "Seeing the culmination of the team's efforts to develop and qualify this configuration for use on the Atlas Centaur is very rewarding. I know the team takes a lot of pride in the RL10C-1 engine and we look forward to delivering affordable upper-stage propulsion for many years to come."
The RL10C-1 is replacing the RL10A-4 variant upper-stage engine for the Single-Engine Centaur Upper Stage configuration of ULA's Atlas V launch vehicle, which has been used on Atlas rockets for more than 20 years. The RL10C-2 engine, currently under development at Aerojet Rocketdyne, will use the RL10C core engine and replace the RL10B-2 variant, presently used on the Delta IV launch vehicle, in the 2019 time frame.
Aerojet Rocketdyne's role in the launch primarily revolved around the Centaur upper stage operation when a single RL10C-1 engine ignited to place the payload into orbit. The RL10C-1 engine delivered 22,890 pounds of thrust to power the Atlas V upper-stage, using cryogenic liquid hydrogen and liquid oxygen propellants during its operation. ARDÉ, a subsidiary of Aerojet Rocketdyne based in New Jersey, provided the pressure vessels on the first and second stages of the launch vehicle.
Twelve Aerojet Rocketdyne monopropellant (hydrazine) thrusters in four modules on the Atlas V Centaur upper stage provided roll, pitch and yaw control as well as settling burns for the upper stage.
Additionally, the company has successfully completed a hot-fire test of its MPS-120™ CubeSat High-Impulse Adaptable Modular Propulsion System™ (CHAMPS™).
The MPS-120 is the first 3D-printed hydrazine integrated propulsion system and is designed to provide propulsion for CubeSats, enabling missions not previously available to these tiny satellites. The project was funded out of the NASA Office of Chief Technologist's Game Changing Opportunities in Technology Development and awarded out of NASA's Armstrong Flight Research Center. The test was conducted in Redmond, Washington.
The MPS-120 contains four miniature rocket engines and feed system components, as well as a 3D printed titanium piston, propellant tank and pressurant tank. The MPS-120 is designed to be compatible with both proven hydrazine propellant and emerging AF-M315E green propellant. The system is upgradable to the MPS-130™ green propellant version through a simple swap of the rocket engines. The entire system fits into a chassis about the size of a coffee cup.
"Demonstrating the speed at which we can manufacture, assemble and test a system like this is a testament to the impact that proper infusion of additive manufacturing and focused teamwork can have on a product," said Ethan Lorimor, MPS-120 project engineer at Aerojet Rocketdyne. "The demonstration proved that the system could be manufactured quickly, with the 3D printing taking only one week and system assembly taking only two days."
The MPS-120 demonstrated more than five times the required throughput on the engine and several full expulsions on the propellant tank. This demonstration test brought the system to Technology Readiness Level 6 and a Manufacturing Readiness Level 6. The next step in the MPS-120 product development is to qualify the unit and fly it in space.
This application of Additive Manufacturing (AM) is one example of Aerojet Rocketdyne's numerous efforts to apply existing AM techniques. It's a fully integrated cross-discipline effort ranging from basic process development to material characterization. The application also uses rigorous component and system level validation, enabling the benefits of AM with the reliability expected of traditional Aerojet Rocketdyne systems.
While the MPS-120 is Aerojet Rocketdyne's first 3D-printed integrated propulsion system, the company has previously conducted several successful hot-fire tests on 3D-printed components and engines. Those tests include an advanced rocket engine Thrust Chamber Assembly using copper alloy AM technology in October 2014; a series of tests on a Bantam demonstration engine built entirely with AM in June 2014; and a series of tests in July 2013 on a liquid-oxygen/gaseous hydrogen rocket injector assembly designed specifically for additive manufacturing.
"Aerojet Rocketdyne continues to push the envelope with both the development and application of 3-D printed technologies, and this successful test opens a new paradigm of possibilities that is not constrained by the limits of traditional manufacturing techniques," said Julie Van Kleeck, vice president of Space Advanced Programs at Aerojet Rocketdyne.
"The MPS-120 hot-fire test is a significant milestone in demonstrating our game-changing propulsion solution, which will make many new CubeSat missions possible," said Christian Carpenter, MPS-120 program manager. "We look forward to identifying customers to demonstrate the technology on an inaugural space flight."
To learn more, please visit the Aerojet Rocketdyne infosite at http://www.rocket.com/