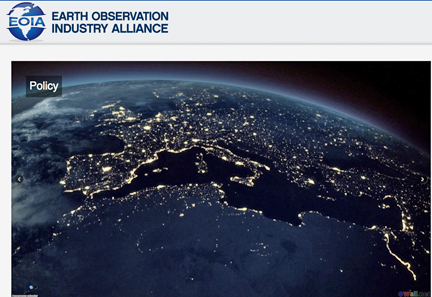 [SatNews] The Earth Observation Industry Alliance (EOIA) was launched in 2013 to promote and advance the interests of the Earth Observation (EO) industry to ensure its long term viability in the global marketplace.
As the only advocacy organization exclusively focused on the EO sector, EOIA advocates on behalf of the commercial earth observation industry and its stakeholders and partners—in the U.S. executive and legislative branches—to:
Create and sustain supportive national policies
Encourage and promote favorable government regulations and laws
Improve and sustain a healthy government budget environment
EOIA is actively seeking new members to help shape the industry's policy focus and agenda on key issues in Washington, D.C. As a leading participant in the commercial EO industry, membership and active participation in the alliance would significantly contribute to its success and build a solid foundation for EOIA's and the Earth Observation Industry's future.
We hope you and your company will consider joining EOIA and add your voice in shaping the future of our Industry.
Please visit http://www.eoia.org/ for additional information.