[SatNews] "It will help us to search for intelligent life outside of the galaxy and explore the origins of the universe."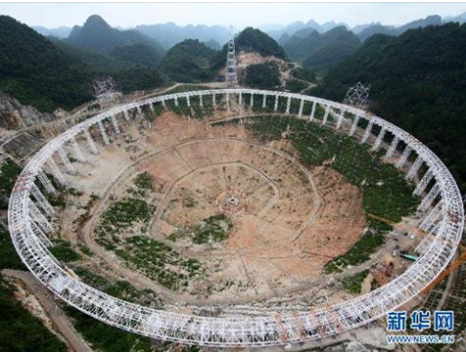 Beijing is ramping up its space program, with the construction of the world's largest radio telescope used to pick up sounds from outer space.
The dish, located deep in the mountains of southwest China's Guizhou Province, will be the first of its kind for China, and will allow its military-run space program to gather its own data.
Wu Xiangping, director-general of the Chinese Astronomical Society, told Xinhua, the official state news service, that for years Chinese scientists have worked on "second-hand" data collected by other space programs, which prevented China from any major breakthroughs.
The dish will have a perimeter of about a mile, according to Xinhua, and there are no towns within three miles, which researchers said was ideal for minimizing sound interference.
"Having a more sensitive telescope, we can receive weaker and more distant radio messages. It will help us to search for intelligent life outside of the galaxy and explore the origins of the universe," Mr. Wu said.
The news of the telescope comes just two months after China announced aspirations to make the world's first landing on the far side of the moon, a mission it says may be complete by 2020, The Christian Science Monitor previously reported.
China has also expressed interest in joining the International Space Station project. China cannot currently participate in ISS programs because it was barred in 2011, when the United States Congress passed a law, citing national security concerns, prohibiting official American contact with Chinese space programs.
The single-aperture spherical telescope, called "FAST," will overtake the American-run Arecibo Observatory in Puerto Rico, as the world's largest and most powerful upon completion, which Chinese officials reportedly say will happen sometime in 2016.
Technicians began work on Thursday assembling the telescope's reflector, which is reportedly about 300 feet in diameter and made up of 4,450 panels. Each panel is an equilateral triangle with a side length of about 36 feet.
The huge dish is hung over the ground supported by thousands of steel pillars and cables, Xinhua reports, with passages built below it for maintenance, and an observation platform built upon a nearby hilltop for visitors.
According to Zheng Yuanpeng, chief engineer of the telescope's panel project, the position of the panels on the satellite can be controlled with an accuracy of within one millimeter.
Nan Rendong, chief scientist of the FAST project with the National Astronomical Observatories, Chinese Academy of Sciences, told Xinhua that the bigger the dish is, the more capable the telescope is and the weaker messages it will receive.
"A radio telescope is like a sensitive ear, listening to tell meaningful radio messages from white noise in the universe. It is like identifying the sound of cicadas in a thunderstorm," he said.
By Kelsey Warner, Science Christian Monitor