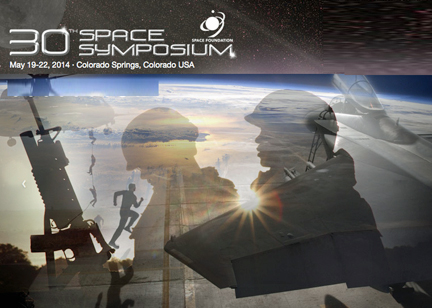 [SatNews] Originally known as the National Space Symposium, a true international flavor now courses through this annual Space Foundation event that occurs in Colorado Springs, Colorado, giving the event it's new moniker—30th Space Symposium.
This year, from May 19th through the 22nd, the symposium brought a global mix of presenters, scientists, engineers, MAG and commercial space industry leaders to the show floor and the various presentations and sessions for a potent blending of expertise.
From the lead event, Cyber 1.4, which focused in on senior leadership views on DoD and industry cyber activities, to a new technical track that offered attendees numerous opportunities to hear from the leaders in space technology development, to the special events such as the new inductees into the Space Technology Hall of Fame® and the Hill Lifetime Space Achievement Award, the course of the proceedings moved with alacrity toward the closing of the 30th Space Symposium tomorrow.
Among the most valued experiences to be taken from this event were the invaluable networking opportunities, many of which will lead to crucial program and mission developments over the coming months in military and civil space.
Thousands viewed complex and detailed technical displays, enjoyed presentations of enormous importance for the global, commercial, civil and military space industries, met with friends and business associates, made new acquaintances, and enjoyed fulfilling industry camaraderie. Held at the elegant Broadmoor Hotel, the 30th Space Symposium is certainly one of the "go to" industry events of the year.
In attendance were publisher Silvano Payne and sales director Jill Durfee of SatNews Publishers—MilsatMagazine is one of the co-sponsors of this symposium.
AGI (Analytical Graphics, Inc.) was presenting their new Commercial Space Operations Center, AKA ComSpOC—a state-of-the-art data processing facility fusing satellite tracking measurements via a network of commercial sensors. These, then, generate highly accurate SSA data products for resident space object (RSO) characterization. Commercial satellite owner/operators and government space operations centers can leverage ComSpOC data products by subscribing to SpaceBook™, an SOA-based Space Situational Service (SSA) service that provides position, health, status, event and trending information for all tracked objects.
And, as the number of objects orbiting Earth continue to grow in number, SSA is invaluable in ensuring the safe operation of active on orbit satellites. Further details are readily available at the ComSpOC infosite: http://www.comspoc.com/.
The SatNews Publishers' team congratulates the Space Foundation on another memorable event and to the dedicated staff who managed to create, develop and present an outstanding trade show. SatNews looks forward to participating again next year at the 31st Space Symposium.
The Space Foundation infosite may be accessed via http://www.spacefoundation.org/