[SatNews] "It's the most well designed antenna system we have ever seen and I am confident that it will be able to withstand the harsh conditions at sea for many years..."

Cobham SATCOM and Danish maritime communications service provider Seasat A/S have extended their partnership to create a complete VSAT system for Maersk Supply Services. Cobham SATCOM's SAILOR 900 VSAT was selected as the antenna for the Seasat A/S designed satcom solution for 45 Maersk Supply Services ships, following the signing of a contract between Seasat A/S and A.P. Moller Maersk.
SAILOR 900 VSAT is a vital factor of Seasat's sophisticated VSAT solution. The complete VSAT solution is centered around Seasat's ready-to-use rack, which houses all below-deck equipment in a rugged 30 HE steel rack, providing internet access to the ship and crew, as well as Voice over IP telephony. The solution features global Ku-band VSAT coverage with automatic handover between satellites. The rack also includes an Iridium Pilot system as a failover facility.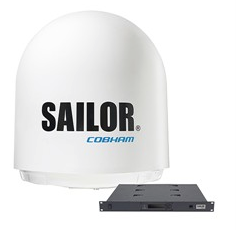 "Winning this contract is a result of determined and focused work," comments Seasat A/S founder, owner and CEO, Kim Martinsen. "It has a 12 months implementation time frame and incorporates full deliveries as well as moving ships already equipped with VSAT systems to our airtime supplier. The SAILOR 900 VSAT antenna system was an easy choice. It's the most well designed antenna system we have ever seen and I am confident that it will be able to withstand the harsh conditions at sea for many years. With high reliability SAILOR 900 VSAT ensures we can offer better service availability and reduce maintenance or service costs throughout the system's lifecycle."
"Increasing Charter and Crew demand for fast and reliable internet requires high quality equipment, a proven Satellite provider and second to none service support. We are very satisfied with the setup, and we are sure that our crew members and charters will be satisfied too. Installation of the VSAT systems will also prepare our vessels for implementation of our new ERP system," comments Maersk Supply Service's Head of Navcom Systems, Peter Faurhoej.
"SAILOR 900 VSAT has become the de facto standard for ship owners and managers looking for a reliable maritime VSAT system to serve their operational communication needs. Our long lasting partnership with Seasat has been instrumental in securing this project. Seasat is fully committed to addressing the needs of the maritime VSAT market with its experience and high quality service offering and we are confident that SAILOR 900 VSAT will support them to provide reliable connectivity and voice communication to Maersk Supply Service vessels," adds Jan Kragh Michelsen, the newly appointed Vice President, Maritime, Cobham SATCOMSeasat A/S is a Danish company, operating primarily in the Danish market since 2004 and based in Køge, south of Copenhagen. Seasat A/S is an established maritime communications provider and dealer of Cobham SATCOM SeaTel VSAT and TV antennas, with more than 250 VSAT and 400 TVRO installations.

Maersk Supply Service provides marine services to the global oil and gas industry. Maersk Supply Service has more than 2000 offshore and 250 onshore employees.
Furuno Chooses Cobham SATCOM As Addition In Portfolio
Cobham SATCOM and Furuno have signed a major strategic partnership agreement at the SMM 2014 exhibition in Hamburg, Germany. Under the new agreement, Cobham SATCOM will provide its SAILOR 900 VSAT Ku-/Ka-band system and forthcoming SAILOR Global Xpress antennas for integration in Furuno's established maritime VSAT portfolio.
"Cobham SATCOM will support Furuno to meet growing demand in the market for reliable VSAT systems," comments Mr. Muneyuki Koike, Managing Director, Furuno Electric Company. "SAILOR 900 VSAT is a modern, field proven antenna system that will provide reliable service for our customers in addition to being a straightforward installation proposition, which is vital for both the newbuild and upgrade markets. Based on our experience of SAILOR 900 VSAT, we are confident that new SAILOR GX antennas will provide the same high reliability and easy installation. Our partnership is not limited to OEM supply and we fully expect to realize the synergies between Furuno and Cobham SATCOM to the benefit of our customers."
Furuno selected Cobham SATCOM as its VSAT OEM partner following a comprehensive testing period. The signing of the contract today represents the company's satisfaction with not only the in-service performance and ease of installation offered by SAILOR 900 VSAT, but Cobham SATCOM's extensive global support network and its position as a financially stable and technically proficient maritime communication technology specialist.
"We are delighted to take these first steps as a strategic partner to Furuno," adds Casper Jensen, VP, Business Development, Cobham SATCOM. "The partnership will support our penetration in the commercial vessel newbuilding market, especially with Asian shipyards, where Furuno is a strong player. With SAILOR VSAT antennas as part of its technology base, Furuno will be well positioned to meet the predicted growth in the need for high quality maritime VSAT antenna systems."

Since commercializing the world's first fish finder in 1948, FURUNO has supplied many types of products for the marine electronics market. By using its exclusive ultrasonic and electronics technologies, FURUNO has developed various types of products that were the first in Japan or the world to offer particular functions or capabilities. Today, FURUNO is a full-line manufacturer and solution provider for maritime industry with operating bases over 83 countries around the world. The company has a well-established brand backed by a solid position in the marine electronics industry that includes a roughly 40% share of the global marine radar market.
Cobham SATCOM uses state-of-the-art technologies to design affordable, highly reliable high performance systems that have decreased over time in terms of size, weight and power consumption. Our products enable people to stay in touch under the most challenging and demanding conditions. When traditional communication technologies fail, Cobham SATCOM's products will keep providing our customers with high quality voice, data, and multimedia communications.
Cobham SATCOM's New Gen Of SeaTel...Five New Antennas In Three Sizes
SMM 2014 is the venue for the world launch of an all-new Sea Tel range of maritime Satellite TV systems. Developed from the ground up, the new generation of Sea Tel Satellite TV is designed to provide reliable, high quality entertainment for crew and passengers globally.

The Sea Tel 80 TV, Sea Tel 100 TV and Sea Tel 120 TV are advanced 3-axis Ku-band antennas all featuring an innovative programmable worldwide LNB and multi polarization, making them truly global. New electronics based on the tried and tested IMA (Integrated Marine Electronics) platform ensure straightforward installation, setup and daily operation. For vessels operating in U.S. waters, Cobham SATCOM offers the Sea Tel 100 TVHD and Sea Tel 120 TVHD. These 3-axis Ku/Ka dual band antennas are capable of receiving Ku- and Ka-band signals from three satellites simultaneously, giving full access to DIRECTV HD programming.
All new Sea Tel Satellite TV antennas are designed, built and tested for reliable operation in the harsh maritime environment. Continuing the focus on performance in Cobham SATCOM's Sea Tel and SAILOR VSAT and FleetBroadband antenna systems, the new generation of Sea Tel Satellite TV antennas features RF capabilities that exceed all other antennas in the field today. The proven legacy and rigorous in-house and at-sea testing ensures that the antennas live up to the high standards of quality and reliability users expect from Cobham SATCOM.
Ease of installation and maintenance is a key development criteria for the new generation of Sea Tel Satellite TV. The radomes offer flexible cable installation with center as well as side access, so installers can choose the cable lead-in that suits them best. They also feature a large service hatch to ensures fast and efficient installations and easy access for maintenance.
"These new antennas have been developed from scratch in our Concord facility, drawing on many years of experience from Sea Tel and SAILOR VSAT and Satellite TV antenna development," comments Mads Ebbesen, Product Line Manager, TV Solutions, Cobham SATCOM. "With global reception including HD also in the US, unmatched RF performance, easy installation and maintenance, and simple operation, the new generation of Sea Tel Satellite TV provide the platform for shipowners and operators to deliver the best television experience on board."
Cobham SATCOM is taking orders for the new generation of Sea Tel Satellite TV from mid-October and onwards, with production taking place at its new production facility in Pandrup, Denmark. Visit Cobham SATCOM in Hall B6, Booth 407 at SMM 2014 to find out more.