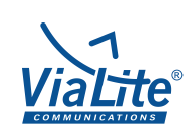 This company is supplying GPS timing and synchronization systems to a major U.S. defense contractor.
ViaLite Communications indicates that the RF over fiber equipment replaces older systems from inoperative manufacturer Fiber-Span.
The new multi-zone distributed GPS system enabled the customer to upgrade its existing fiber optic system from a point-to-point to a point-to-multi-point system that allows RF to be transmitted over longer distances with less loss and greater reliability.
In addition, ViaLite was able to replace some coaxial system components, adding capabilities that the customer had thought were only available with traditional coaxial copper technology.
ViaLite director of sales Craig Somach said that they were chosen for this order because of their technology leadership, service and support, including their five-year warranty.
Equipment supplied included ViaLiteHD 1U chassis rack mount units with integrated 1:4 and 1:8 RF splitters, GPS TX and RX FOL cards, and 1:4 optical splitters.