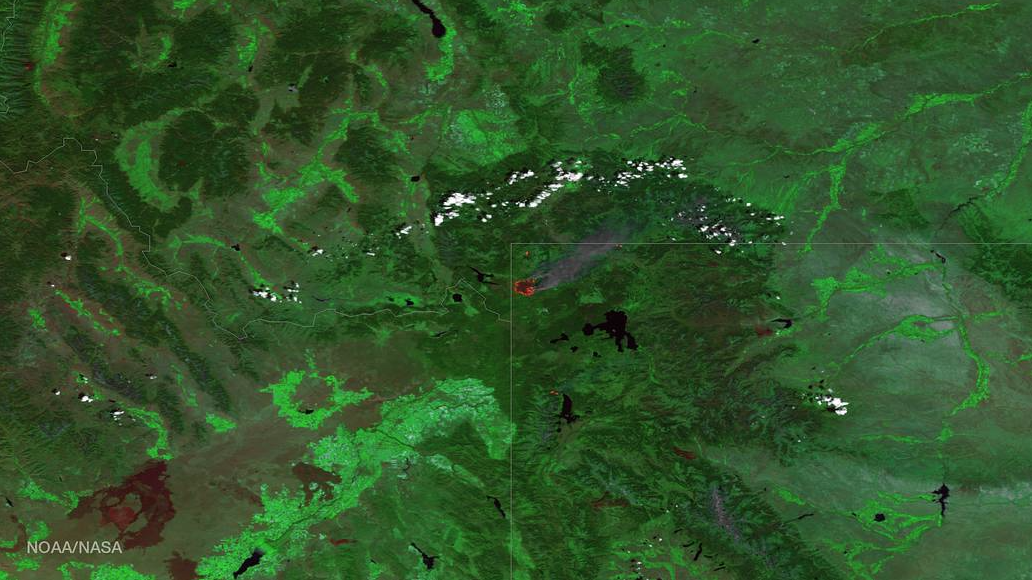 This time of year, every year, there are fires, and NASA's Suomi satellite captured the Maple fire in Wyoming. It's always a tragedy with the wildlife and wild beauty of the area being reduced to ashes.
The VIIRS instrument aboard the NOAA/NASA Suomi NPP satellite took this color-enhanced image of the Maple Fire in Wyoming, August 21, 2016. The instrument uses multiple channels, including visible and thermal imagery, to distinguish cloud, smoke, land, and areas of active fires. A large fire's thermal signature is so strong, and burns area so large, that it is easily detected by the satellite's sensors 512 miles above the Earth's surface.
According to the joint agency incident information system website, Inciweb, the 22,448-acre Maple Fire (just one of the blazes in the Tatanka Fire Complex) was detected the evening of August 8 by an aircraft passing over Yellowstone National Park. The fire remains 4 miles east of the Park's west boundary, and 5 miles northeast of the community of West Yellowstone and 2.8 miles from Madison Junction.
Currently 22,448 acres, the Maple Fire grew an additional 6,233 acres yesterday. An infrared mapping flight was conducted last night and the majority of the new growth was on the northern flanks of the fire.
Credit: NOAA Environmental Visualization Laboratory/NASA