[SatNews] On March 25, 2012, an International Launch Services (ILS) Proton M vehicle successfully launched the...
...Intelsat 22 satellite, which carried a specialized UHF communications payload for the Australian Defense Force (ADF). Once operational in May of this year, the satellite is expected to have a useful life of approximately 18 years. For the ADF, the launch is its second hosted payload deployment, the first of which was aboard the Optus C1 satellite launched in 2003, which was a UHF payload as well. The key takeaways specific to the ADF program are the following:
The hosted payload program is sound, and it will not be surprising to see more hosted payloads deployed by the ADF in the coming years, particularly as the Optus C1 satellite comes to its end of life
The ADF program features operational payloads and not experimental systems. The U.S. Government, which has a large need for military space assets, to date has deployed only experimental payloads such as CHIRP. The ADF program shows the benefits of operational systems in addressing unique requirements, such that operational hosted payloads may be deployed by the U.S. Government in the near term
Other nations can emulate the ADF's example in terms of managing costs to facilitate space-based capabilities, particularly nations that have tight and/or limited budgets
Finally, an important part of the hosted payload equation is the host, i.e., satellite operators, who entered into a hosted payload arrangement due to revenues gained from the business proposition despite complexities and risks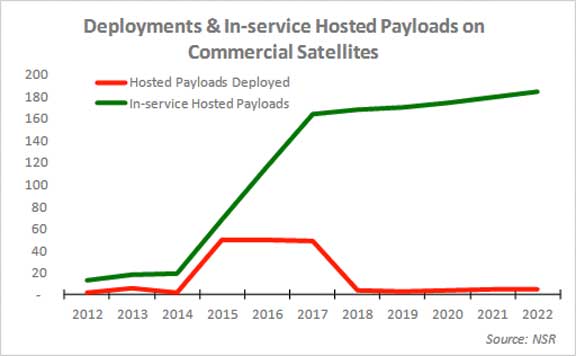 The ADF program in general—and the latest launch in particular—establish the viability and value proposition of hosted payloads in delivering customized space solutions for government and military users, particularly during times of severe budget cuts and fiscal constraints. Indeed, in its latest market research study, Hosted Payloads on Commercial Satellites, 2nd Edition, NSR found that the market will become more fully developed over the next 10 years where it has been fairly limited as an option exercised by governments during the past decade. From 13 hosted payloads in 2012, the market is expected to grow to more than 180 in-service payloads by the close of 2022. Significant factors in this growth are the instruments aboard the Iridium NEXT constellation. Moreover and more importantly, new players from the private sector will contribute to market growth where risk-taking should lead to enhanced revenue opportunities. This report is by Jose Del Rosario, Senior Analyst, NSR.
The successful ADF launch establishes another layer of confidence in the hosted payload proposition. Over time, with both operational and experimental payloads performing well and serving the unique needs of governmental entities, partnerships with the commercial satellite industry should lead to more unique arrangements that are far more complex than simply leasing capacity on traditional commercial frequencies in C- and Ku-band. Moreover, the ADF's UHF payload is but one example of unique military requirements in a host of capabilities that address a fairly large amount of needs for both military and civil agencies. Capabilities such as an operational and more complex CHIRP instrument for military use as well as systems for earth observation for environmental monitoring are examples of capabilities that can take advantage of hosted payload arrangements.
Over time, a healthy mix of deployments should lead to opportunities for both client and host in a commercial arrangement that benefits both parties:
Time, cost savings and specialized capabilities for the client
Healthy, long term and sustainable revenue streams for the host