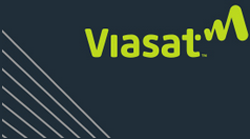 Viasat has confirmed the company will not be moving forward with Eutelsat Communications on a deal for use of the ViaSat-3 satellite — this is due to Eutelsat's decision to pursue a local market alternative.
Viasat President and Chief Operating Officer Rick Baldridge released the following statement: "Viasat remains excited about its ViaSat-3 program for Europe, Middle East and Africa (EMEA), which is well underway and on track. The Company believes there is significant interest in the ViaSat-3 program from prospective regional partners, as ViaSat-3 is expected to be the highest capacity communications satellite system in the world when it launches. The ViaSat-3 satellite for EMEA is expected to serve more than 1 Terabit per second (Tbps) of total network capacity to meet the growing broadband needs of residential, commercial aviation, maritime, enterprise and government sectors. The current Viasat / Eutelsat joint venture, which has been in operation for more than one year, will continue to be governed under the existing agreements. Viasat's joint ownership of the KA-SAT satellite is currently serving Viasat's commercial aviation and government customers as well as direct-to-home residential subscribers throughout Europe."
As there was no binding agreement with Eutelsat for the ViaSat-3 EMEA satellite, Viasat's capital plan is not dependent on Eutelsat's participation to proceed with the ViaSat-3 program. Viasat also confirmed that Eutelsat's ViaSat-3 decision has no direct impact on existing contracts.
Viasat and Eutelsat closed a broadband joint venture in March of 2017 that gave Viasat joint ownership of the KA-SAT satellite. The joint venture also enabled Viasat to create a new consumer retail service in Europe, which is currently in early-stage operations and focuses on bringing enhanced broadband internet service plans to select European countries.