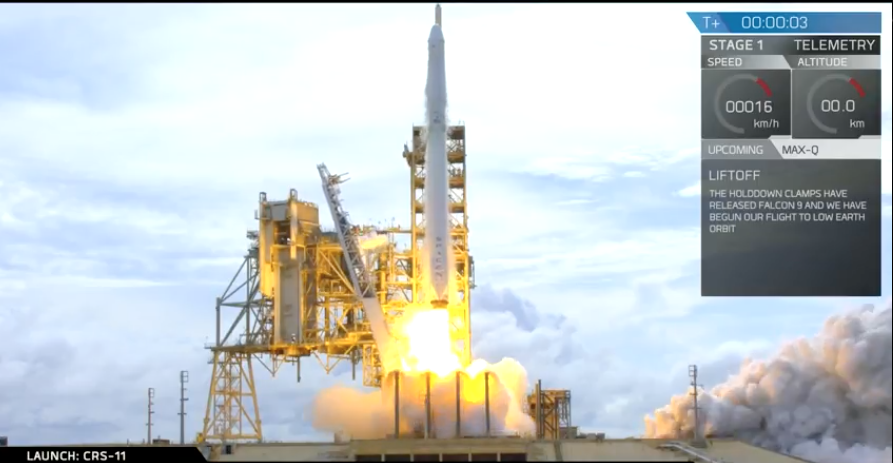 SpaceX enjoys a first for what is essentially a used-vehicle, in this case a Dragon spacecraft, that has previously flown, and today has made history by once again embarking on a resupply mission to the ISS.
On June 3, 2017, SpaceX's Falcon 9 rocket successfully launched a Dragon spacecraft for the company's eleventh Commercial Resupply Services mission (CRS-11) to the International Space Station. This mission marked the first reflight of a Dragon spacecraft, having previously flown during the fourth Commercial Resupply Services (CRS-4) mission back in September 2014.
This launch also marked the 100th launch from historic Launch Complex 39A (LC-39A) at NASA's Kennedy Space Center. Previous launches include 11 Apollo flights, the launch of the un-crewed Skylab in 1973, 82 shuttle flights, and five SpaceX launches. Following stage separation, the first stage of Falcon 9 successfully landed at SpaceX's Landing Zone 1 (LZ-1) at Cape Canaveral Air Force Station, Florida.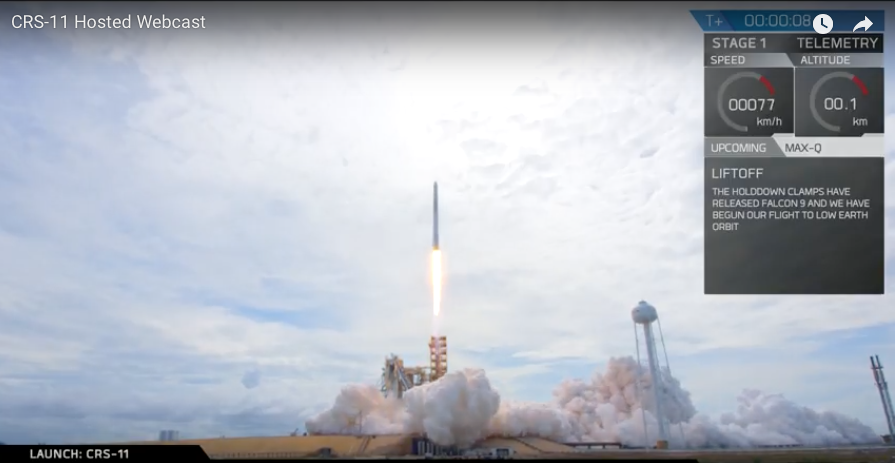 Dragon is scheduled to arrive at the International Space Station on Monday, June 5 to be installed on the Earth-facing side of the Harmony module for its month-long stay. The International Space Station crew members will use the station's 57.7-foot (17.6-meter) robotic arm to reach out and capture the Dragon spacecraft and attach it to the station.
SpaceX's Falcon 9 rocket will launch a Dragon spacecraft to low-Earth orbit to deliver critical cargo to and from the International Space Station for NASA.
Dragon will be filled with almost 6,000 pounds of supplies and payloads, including critical materials to directly support dozens of the more than 250 science and research investigations that will occur during Expeditions 52 and 53. The Dragon spacecraft being used to support the CRS-11 mission previously resupplied the International Space Station on SpaceX's CRS-4 mission in September 2014.
Dragon will return to Earth after an approximately one month stay at the orbiting laboratory. About five hours after Dragon leaves the station, it will conduct its deorbit burn, which lasts up to 10 minutes. It takes about 30 minutes for Dragon to reenter the Earth's atmosphere and splash down in the Pacific Ocean off the coast of Baja California.