[SatNews] Who is...creator of a reusable space capsule, inventor of a high speed electric car, a dropout, after just two days, of the doctorate program at Stanford who later sold his software company for $300 million?
Elon Musk, CEO and Co-founder of Tesla and CEO and CTO of SpaceX, last night was recognized for Innovator of the Year in Technology by WSJ. (Wall Street Journal) Magazine.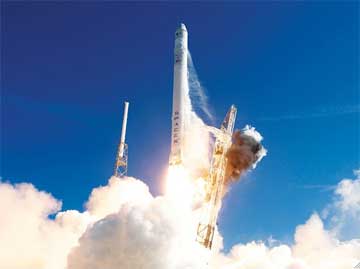 WSJ. Magazine's first annual Innovator of the Year Awards honors the most creative, disruptive, and influential individuals in the world today.
Musk was
recognized for revolutionizing three of the biggest industries in the world — automobiles, energy and space exploration — simultaneously.
Artist Tom Sachs
, whose recent work is based on the imagery of space, presented the award to Musk.
In conjunction with the November issue of WSJ., the winners were honored on Thursday, October 27, at the Museum of Modern Art in New York City
. The November issue of WSJ. will hit newsstands on Saturday, October 29, as part of WSJ Weekend.
"It is an honor to be recognized by WSJ. Magazine, and to join these other visionaries here tonight," said
Elon Musk
. "
It is urgently important to apply innovation the areas that will most affect our future. I am committed to finding renewable energy solutions, accelerating the adoption of sustainable transportation, and revolutionizing space travel."
The Innovator of the Year Awards were chosen by editors of WSJ. Magazine, with input from a select group of experts in each field.
Read the story at.