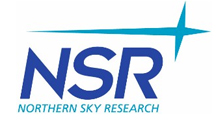 What is it about satellite solutions that hinders growth in the explosive mobile market?
Is it cost, technology, perceptions, or something else? One theme is clear: satellite players must identify what it takes to support the avalanche of mobile backhaul data traffic, especially for new 4G or 5G service, as well as CDNs and traffic offload.
Drawing on NSR's Wireless Backhaul via Satellite, 10th Edition, the longest-standing analysis of this important sector, this free NSR webinar that will be conducted on July 26th at 10:00 a.m., EDT, will discuss key topics on expanding SATCOM addressable markets in the mobile ecosystem:
Where does satellite wireless backhaul stand in the mobile ecosystem?
What is the addressable market for the satellite industry to target?
What is necessary to unlock the demand for backhauling broadband services?
What are the new markets and opportunities emerging with the emerging telecom architecture (video, data explosion, 5G, CDNs…)?
Join NSR for this complimentary webinar that will discuss the challenges and opportunities facing the satellite communications industry in the wireless backhaul market. To register, please access this direct link...