Technavio projects the global satellite modem market to post a CAGR of more than 5 percent during the forecast period with their new Gobal Satellite Modem Market 2018-2002 report — the increasing need to enhance off-shore communication is a key driver, which is expected to positively impact market growth during the period 2018-2022.
There is a growing need to deploy efficient communication networks for crews and passengers including fishermen, sailors, engineers at oil-rigs, and tourists on cruise ships. Providing a cellular network off-shore is difficult as the installation of cell phone towers is a challenging and rather expensive task. Satellite communication can fulfill the need for off-shore communication. A satellite modem is one of the core equipment required to establish satellite communications.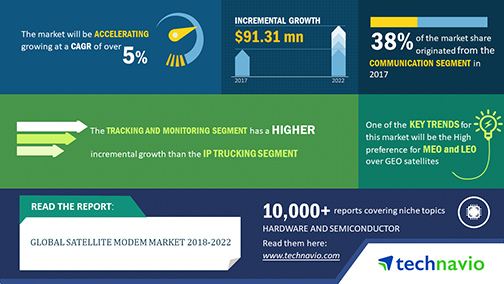 In this report, Technavio highlights the high preference for MEO and LEO over GEO satellites as one of the key emerging trends to drive the global satellite modem market:
High preference for MEO and LEO over GEO satellites
Geostationary orbit (GEO) satellites are located 35,800 km above the equator. As these satellites have a large distance between them and the Earth station, the delay and losses are high. However, the major advantage of a GEO satellite is that it has more coverage and it does not need to be tracked.
Although the gateway costs of MEO and LEO satellites are higher, they do offer a lot of advantages. One of the reasons for the increasing popularity of these satellites is the increasing interest in GPS, which has become an integral part of satellite communications network. Numerous MEO satellites are launched into space to provide GPS. This will lead to an increase in demand for satellite modems to be installed across base stations for efficient signal transmission. LEO satellites are useful in areas where obtaining a signal is difficult such as oil rigs.
"The increase in demand for GPS, and growing need to strengthen the network signal and bandwidth is leading to increased adoption of LEO and MEO satellites, despite the high cost. The high ROI is compelling several firms to adopt satellite communication which is established using LEO and MEO satellites," said a senior analyst for embedded systems research at Technavio.
Market segmentation and analysis through 2022
This market research report segments the global satellite modem market by application (communications, IP trunking, and tracking and monitoring), by type (MCPC and SCPC), and key regions (the Americas, APAC, and EMEA).
In 2017, the global satellite modem market was led by the Americas which accounted for 50% share followed by APAC and EMEA respectively. The Americas and APAC are also expected to witness an increase in their market share over the forecast period, while EMEA will see a commensurate decline in its market share.