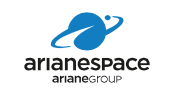 The launch went smoothly as the Ariane 5 rocket sent off telecommunications satellites for two major Arianespace customers, Japan's SKY Perfect JSAT Corporation and Avanti Communications of the UK.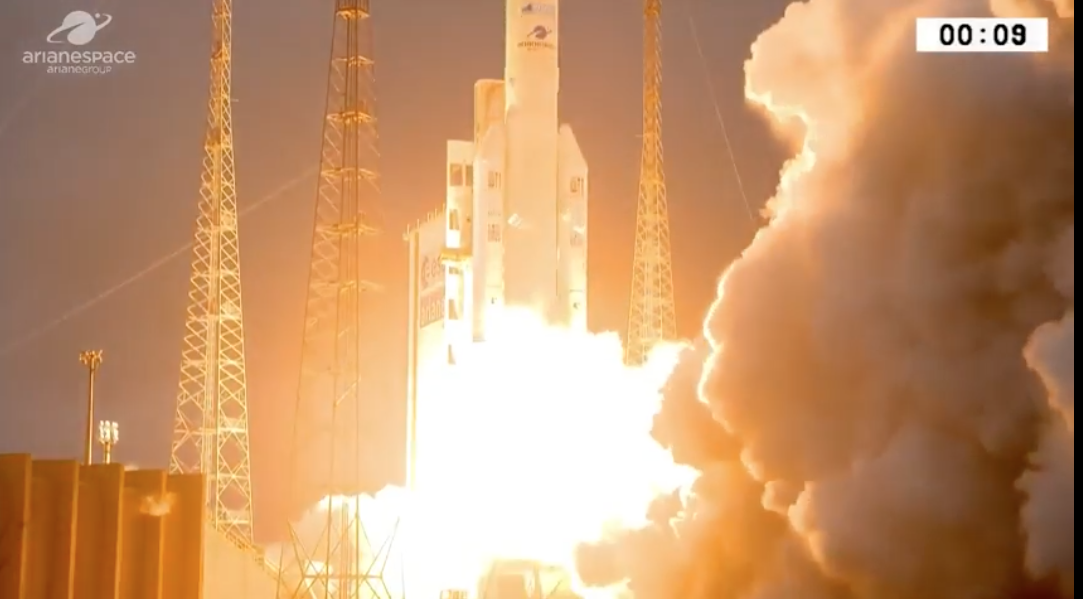 Ariane 5 lofted the DSN-1/Superbird-8 and HYLAS 4 payloads from Europe's Spaceport in French Guiana during a flight lasting just under 34 minutes, and in doing so, exceeded the 200-mark in the number of satellites launched during its operational career (DSN-1/Superbird-8 is #200; HYLAS 4 is #201).
The heavy-lift workhorse delivered an estimated total lift performance of 10,260 kg. on today's flight, including the two passengers and hardware for its dual-payload deployment system. Designated VA242 in Arianespace's launcher family numbering system, this mission was the 242nd launch of an Ariane-series vehicle to date, as well as the 83rd Ariane 5 success since 2002.
Another launch at the service of Japan
As the 19th SKY Perfect JSAT satellite entrusted to Arianespace for launch, DSN-1/Superbird-8 – a dual-use relay platform – rode in the upper payload position on Ariane 5 and was deployed first on today's flight.
Its Superbird-8 payload uses high-performance Ku- and Ka-band transponders for communications services primarily in the Japanese market. The spacecraft's DSN-1 (X-Band Defense Communications Satellite-1) payload is associated with the Program to Upgrade and Operate X-Band Satellite Communications Function, for which the DSN Corporation – a subsidiary of SKY Perfect JSAT – has concluded a contract with Japan's Ministry of Defense.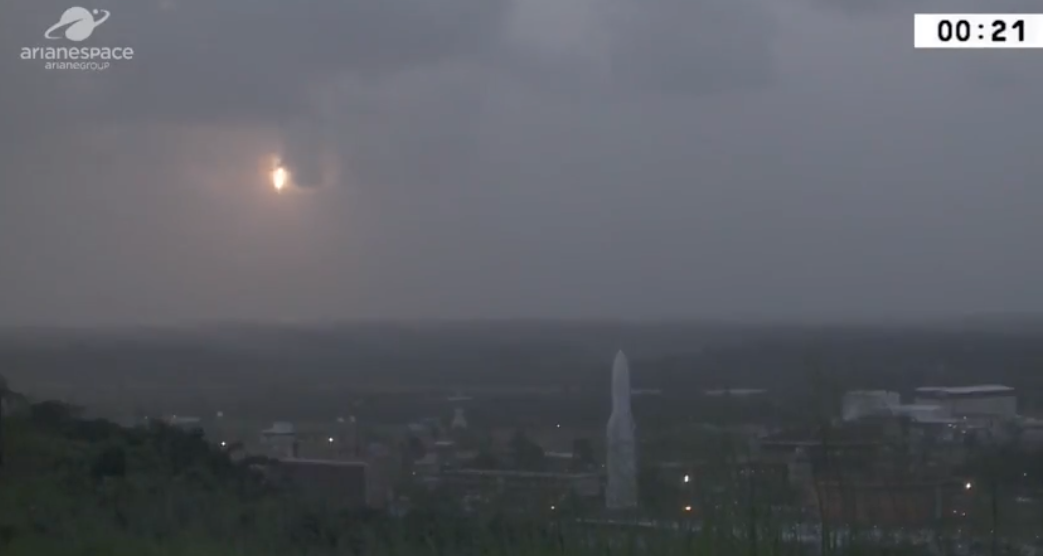 "We are proud to help provide civilian and defense satellite communication services, for the Japanese market and Japan's Ministry of Defense," said Arianespace Chairman and CEO Stéphane Israël, who provided his post-flight comments from the Spaceport's mission control center.
DSN-1/Superbird-8 was produced by MELCO (Mitsubishi Electric Corporation) using a DS2000 platform, with manufacturing management provided by NEC Corporation. It is the third MELCO-built satellite to be launched by Arianespace and will operate from a final orbital position at 162 deg. East Longitude.
Delivering satellite communications across Europe
Completing today's mission was the deployment of HYLAS 4, which was released from Ariane 5's lower passenger position. Once it its final orbital slot of 33.5 deg. West Longitude, this platform will deliver high-speed, reliable and secure satellite communications in Ka-band to Internet service providers (ISPs), mobile network operators (MNOs), governments and satellite operators across Europe.
"With the launch of this high-throughput satellite, Arianespace is proud to help provide services in regions such as West and Central Africa," Israël said. Produced by Orbital ATK, HYLAS 4's steerable beams also enable coverage for Europe, South America, the Caribbean and Middle East.
The CEO also gave special thanks to Ariane 5 production prime contractor ArianeGroup, the European Space Agency, the French CNES space agency, the ground contractors in French Guiana and his own teams at Arianespace.