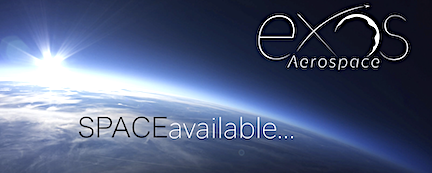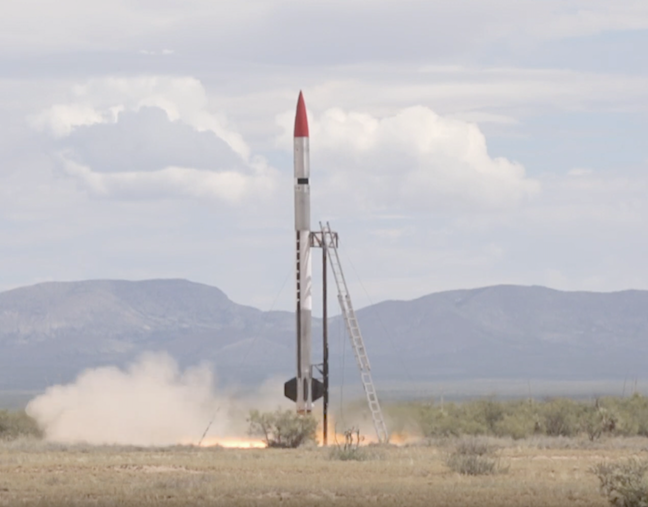 Not everything that goes up does come down, but in this test, thankfully, that is what happened.
Mission accomplished, as EXOS Aerospace Systems & Technologies, Inc., reports the completion of its 10th Hover attempt at Caddo Mills Airport. EXOS is a developer of reusable space launch vehicles based in Greenville, Texas, that provided a timeline account of the tests that have been conducted in the past few months.
The account is as follows;
EXOS completed the Pathfinder Launch on August 25, 2018 from Spaceport America. It was the first step in validating the SARGE SRLV could be flown and recovered for reuse. EXOS gathered critical flight data that enabled advancing the design and setting them up for continued reuse of their SARGE vehicle. The YouTube video recaps of the day is available here
On March 2, 2019, the "Mission 1" test flight of the SARGE reusable system carried commercial payloads. After this flight, EXOS returned the payloads to their customers for analysis and upgrade before re-flight to >80km. The successful launch further solidified the company's plan to use this technology as the design basis of their Jaguar orbital launch vehicle (with reusable first stage) capable of carrying 100kg to Low Earth Orbit (200-400km).
On June 29, 2019, the "Mission 3" test flight of the SARGE reusable system carried commercial payload and demonstrated the third use and recovery, however a control tuning error resulted in an early abort. On to Mission 4 with the same payloads flying for free.

Hover Test Summary – EXOS Aerospace's SARGE Rocket completed its 10th Hover attempt on September 26, 2019. It was our most successful hover attempt but had limited run times. In total, eight (8) successful starts were performed in a 20-minute interval. The extensive data sets will be analyzed before the next attempt is completed as a final validation before the next launch.
What's next for EXOS Aerospace?
Shift to commercial operations, "With a successful flight we will move to commercialization of the SARGE platform to serve customers worldwide through National Charter Enterprises and vehicle Wet and Dry leases. "We look forward to supporting space research, manufacturing, and educational opportunities for the world by providing frequent suborbital flights that provide fast and affordable access to space. Since the 36-foot tall 20-inch diameter SARGE rocket is designed for reusability, it is proving to be an excellent risk mitigation platform for our orbital technology development program. Exos will now be able to shift to the engineering of our Jaguar reusable (first stage) LEO launcher," said John Quinn, EXOS COO.
Partnerships - Beyond mobile ground launch, EXOS is partnering with Fenix Space, Inc. to explore conducting airborne launches from Spaceport America Spaceway to support tow plane and autonomous glider operations as a way to increase the SARGE and future vehicles capability. Both companies are enticed by the unique environment the Spaceport provides to its commercial customers and believe the benefits will continue to enable new technologies to help make SPACEavailable…
EXOS' information is as follows regarding their upcoming programs and associated payloads on the October 26th, 2019 flight include:
"SPACEedu… Help schools fund, build, fly and reuse CubeSat projects for their S.T.E.M research programs. Having already flown for many schools, EXOS is literally taking education to a higher level.
P1. Arete' Greater Nanticoke Area Trojans -Space thermal energy transfer experiment
P2. Jeremiah Pate- Gossomer Powered Picosat
P3. University of Central Florida – Dust Aggregation Experiment (SPACE-2 NASA REDDI Payload)
P4. Purdue University (PREFER) Space and Payload Atmospheric recording system are aboard this flight.
SPACEbuild… Test or manufacture in space aboard an EXOS vehicle for premium exposure to space flight conditions. The reduced cost of suborbital flights makes it a preferred risk mitigation step for qualifying orbital payloads.
P5. NASA -Vibration Damper - TRL advancement P6. Agronautics, LLC -Space hops & grain, P7. SOLGW -memorabilia) P8. ASTRAX International – Memorabilia are aboard this flight.
SPACEaid… Perform breakthrough medical research by leveraging the ability to test in the microgravity and vacuum of space. With EXOS we can return your payload within minutes of landing. Our soft (5G) launch and fin stabilization means a gentle ride for your payload requiring less effort in payload design over other commercial launch options. On this flight, P9. Center for Applied Space Technologies -Sponsoring Mayo Clinic will fly two "BRIC67" payloads- the Mayo team will study the effects of hypergravity and microgravity on glioblastoma spheroids.
SPACEship… Launch from Spaceport American in New Mexico and we'll deliver your payload to space and eject it to perform your test outside our vehicle. * (LEO target aboard our reusable (first stage) Jaguar vehicle — late 2022). "
EXOS will continue to work towards making SPACEavailable…
Develop Orbital reuse life prediction- "Once EXOS completes this test we will move toward using SARGE to develop live dynamic condition assessment and prognostics systems. These programs will help us predict vehicle RUL (Remaining Useful Life) as a feed forward to reduce risk in our orbital program" said John Quinn, EXOS COO. Quinn says EXOS designed the rocket system to support up to 200 flights; however they propose to use the Lox Ethanol vehicle as long as it's "safe" and ultimately desire to sell the liquid fired rockets as expendable vehicles to MDA as "hard to acquire" targets as they near the end of their economically viable life.
About EXOS Aerospace Systems & Technologies, Inc.
EXOS is a leading developer of reusable space launch vehicles based in Greenville, Texas. EXOS provides affordable, repeatable, and reliable commercial spaceflight with accelerated turnaround. Payload customers are those who want to "fly now," rather than a year from now, need minutes of micro G time, and prompt access to their payload. EXOS is booking payloads now on its SARGE vehicle and has SPACEavailable… or, If you are interested in Wet Leasing a SARGE vehicle to reduce costs for an extended research campaign, contact EXOS for more details via the contact link at www.EXOSaero.com. EXOS is planning the Jaguar testing to commence by 2022 and are ready to book your 200kg or less LEO payload now.
Media Contact for Exos
Exos Aerospace
+1.844.289.2773
Admin@exosaero.com