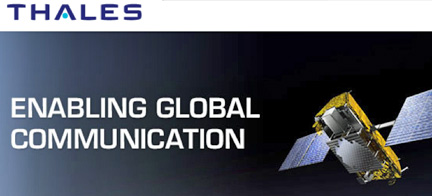 [SatNews] The European Space Agency's Sentinel-1A satellite, designed and built by Thales Alenia Space, is ready to be launched from the Guiana Space Center in French Guiana, using a Soyuz-Fregat A launcher.
The company's expertise has led to collaborative missions outside Europe that include South Korea's Kompsat 5, India's Saral, Canada's Radarsat 2 and the United States' Topex, Jason, Calipso, GFO-RA), and Russia's Sadko.
Thales Alenia Space is making a major contribution to Copernicus as prime contractor for the Sentinel 1 and Sentinel 3 satellites. Simultaneously, Thales Alenia Space continues to explore the vast possibilities offered by its advanced technologies to develop new applications: For instance, taking a closer look at the carbon cycle, another key factor in climate change. Regarding defense or dual-use missions, Thales Alenia Space is the prime contractor for the Italian dual radar observation system, Cosmo SkyMed. A four-satellite constellation, the Cosmo-SkyMed system delivers data to government, military and private users. The system is now totally operational and has reached its optimum image acquisition capacity of about 1,800 images/day, day or night and in all weather conditions. These capabilities make the Italian observation system one of the most advanced and reliable systems of this type in the world. Thales Alenia Space is also developing COSMO New Generation.
Thales Alenia Space is an acknowledged European expert in high-resolution radar imaging. The company supplied the electronics for the radar instruments on the SAR-Lupe constellation of five satellites, which delivers high-resolution images of the Earth to the German Ministry of Defense.