[SatNews] Space Tech Expo opens on Tuesday, May 19 through Thursday, May 21.
The Expo brings in industry experts due to interest in emerging spacecraft technologies at an all-time high this is an opportunity to capitalize on the new market era of expanded private-sector applications and opportunities. Click here to download show news.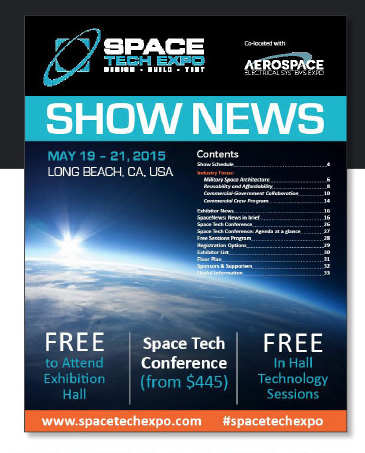 The three-day conference program brings together scientists, engineers, C-level executives, government representatives, policy makers, space agencies, military and entrepreneurs to debate the key challenges and opportunities in civil and commercial space.
Covering satellite systems, launch vehicle and spacecraft design, engineering, testing, and all facets of the manufacturing supply chain, the exhibition can assist your company to effectively reach a highly targeted audience with a pre-established and growing need for your company's technology and service offerings.
The public's interest about spacecraft technology and next-generation industry trends is at an all-time high. As such, Space Tech Expo is actively engaging the world media for press conferences and ongoing media coverage.
Structured networking and organized social activities are built directly into the event to ensure maximum interaction between technical conference delegates, invited guests, exhibitors, and attendees.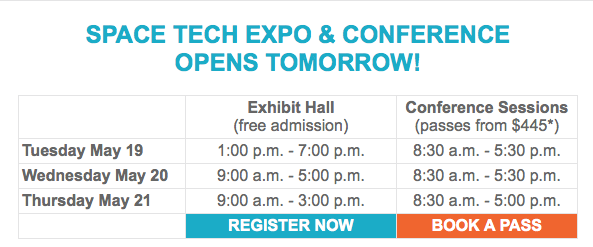 Register for free admission to the exhibition hall with 200+ exhibitors, access to the in-hall expo technology sessions and an invitation to the opening day drinks reception from 4:30 p.m. tomorrow in the exhibition hall.
There's still time to book a pass to the Space Tech Conference featuring the world's leading space organizations. Discounts are available for military, government, academics and exhibitors.
*1 day pass $445, 2 day pass $695, 3 day pass $895