[SatNews] The Cliburn presents a special John Giordano Tribute Concert on Tuesday, April 7, 2015 at 7:30 p.m. CDT at Bass Performance Hall in Fort Worth, Texas. The evening will feature performances by seven Cliburn winners: Haochen Zhang (2009 gold), Joyce Yang (2005 silver), Stanislav Ioudenitch (2001 gold), Jon Nakamatsu (1997 gold), Simone Pedroni (1993 gold), André-Michel Schub (1981 gold), and Vladimir Viardo (1973 gold).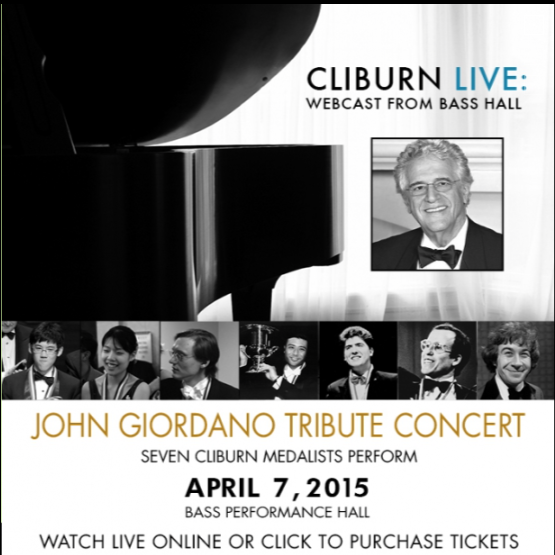 Part of the new CLIBURN LIVE program, the concert will be streamed live in its entirety at Cliburn.org, and will be made available on demand afterwards.
Tickets for patrons wanting to attend the John Giordano Tribute Concert in person range in price from $20 to $65 and can be purchased online at Cliburn.org, by calling 817.212.4280, or at the Bass Hall Box Office (525 Commerce Street, Fort Worth, TX).
Over a four-year period, CLIBURN LIVE will webcast over 250 performances live and on demand to the world—all three competitions (Junior in June 2015, Amateur in June 2016, and Cliburn in May/June 2017) and Cliburn at the Bass concerts by some of the world's top performing musicians (2-3 annually).
"The Cliburn's mission is to share classical music with the widest audience possible," said Jacques Marquis, president and CEO. "The viewership of the competition webcasts has grown exponentially every four years and is an extremely valuable tool to fulfilling that mandate. We have an expertise in broadcasting live concerts online and are presenting the finest artists annually in Fort Worth. It's a natural extension to showcase the Cliburn at the Bass concerts internationally as well—and a way to bring people from across the world to the Cliburn much more often."
The Cliburn's history of webcasting spans 14 years and has included four Van Cliburn International Piano Competitions from Bass Hall (2001, 2005, 2009, 2013), one International Piano Competition for Outstanding Amateurs™ from TCU (2011), and the Van Cliburn Memorial Concert from Sundance Square Plaza (2014). Over the three weeks of the 2013 Cliburn Competition, approximately 98 hours of concerts, interviews, commentary, and features were broadcast live—amassing over 500,000 visits by viewers in 155 countries for a total of 13 million minutes streamed just during the 17-day period.