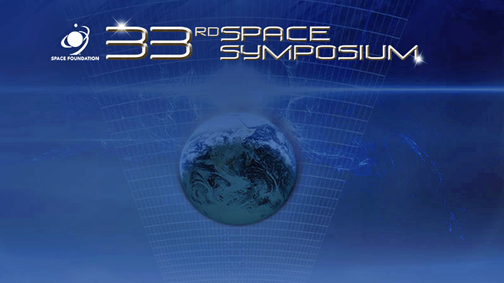 The Space Foundation has just announced two important additions to the Space Foundation's 33rd Space Symposium, featured speakers Elżbieta Bieńkowska, Commissioner, European Commission, and Gen. David L. Goldfein, USAF, Chief of Staff, US Air Force. Other notable recent speaker confirmations include:

Lt. Gen. David J. Buck, USAF, Commander, 14th Air Force, Air Force Space Command; Commander, Joint Functional Component Command for Space, U.S. Strategic Command
Lynn Dugle, Chief Executive Officer, Engility
Alan Stern, Ph.D, Principal Investigator New Horizons Mission, CEO, Uwingu

The Space Foundation's 33rd Space Symposium will be held from April 3rd to the 6th, 2017, at The Broadmoor in Colorado Springs, Colorado, USA. Previously announced speakers include:
Winston A. Beauchamp, Deputy Under Secretary of the Air Force for Space, and Director, Principal Department of Defense Space Advisor Staff, the Pentagon, Washington, D.C.
Kira Blackwell, iTech Program Executive & OCT Innovation Liaison, NASA
Zachary Bogue, Co-Managing Partner, Data Collective
Robert D. Cabana, Director, John F. Kennedy Space Center
Gwang-Rae Cho, Ph.D., President, Korean Aerospace Research Institute
Maj. Gen. Clinton E. Crosier, USAF, Director of Plans and Policy, U.S. Strategic Command, Offutt Air Force Base, Nebraska
Lars Dyrud, Ph.D., Chief Executive Officer, OmniEarth Inc.
Dr. Pascale Ehrenfreund, Chair, DLR Executive Board
Janet Kavandi, Ph.D., Director, John H. Glenn Research Center
Sylvain Laporte, President, Canadian Space Agency
Jean-Yves Le Gall, President, Centre National d'Etudes Spatiales (CNES)
Marius-Ioan Piso Ph.D., President and Chief Executive Officer, Romanian Space Agency
Todd May, Director, NASA Marshall Space Flight Center
Ellen Ochoa, Ph.D., Director, NASA Johnson Space Center
Jane Poynter, Chief Executive Officer, World View
Chris Scolese, Director, Goddard Space Flight Center
Brig. Gen. John Shaw, USAF, Deputy Director, Global Operations, Global Operations Directorate, U.S. Strategic Command
Jeffrey Tarr, President and CEO, DigitalGlobe
Dylan Taylor, President and COO, Colliers International
Pham Anh Tuan, Ph.D., Director General, Vietnam National Satellite Center
Michael Watkins, Ph.D., Director, NASA Jet Propulsion Laboratory
Dr. Johann-Dietrich 'Jan' Woerner, Director General, European Space Agency (ESA)

The 33rd Space Symposium will also feature discussion of emergent space technology as well as more than 160 displays of the world's latest space technology, products and services in the Boeing Exhibit Center and Boeing Exhibit Center Pavilion. Widely known as the most significant global space industry conference, the Space Foundation's Space Symposium annually attracts thousands of participants from dozens of countries, including the world's top decision makers from civil, military, government, commercial and academic institutions.
A discount on standard industry registration is now in effect for registration paid by January 20, 2017. Visit SpaceSymposium.org for complete conference information and secure online registration. The registration discount does not apply to contractors who work for or with the government or military.

Co-sponsors for the 33rd Space Symposium include: AGI; Boeing; El Pomar Foundation; Lockheed Martin; Northrop Grumman; Raytheon; Secure World Foundation; SES Government Solutions; SpaceX; Spincraft; Stellar Solutions; United Launch Alliance (ULA).