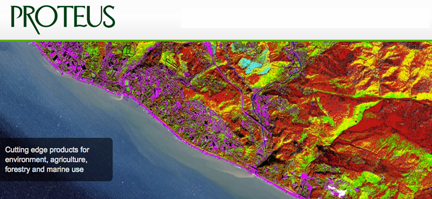 [SatNews] Proteus FZC, a provider of satellite-derived marine mapping solutions, has teamed with TCarta Marine LLC to offer complete bathymetric data sets from the shallow near-shore coastal zone out to the continental shelf.

Proteus is a leading supplier of high-resolution bathymetric and seafloor classification maps derived from satellite imagery. Depending on water conditions, the Proteus bathymetric data is accurate to depths of 35 meters in the near-shore area extending several kilometers from the coastline. TCarta Marine, based in the U.S., is a provider of medium-resolution bathymetric data from the littoral zone out to the continental shelf, hundreds of kilometers offshore.
Since 2011, Proteus has produced seafloor survey and seabed classification projects using multispectral satellite imagery. The product-generation technology can be carried out in a fraction of the time and cost of traditional methods. These mapping projects have been delivered for environmental, oil and gas, marine biology and other coastal zone applications in Europe, the Middle East and Caribbean. Derived products have high accuracy, meeting the requirements of engineering, environmental monitoring and strategic geospatial planning applications.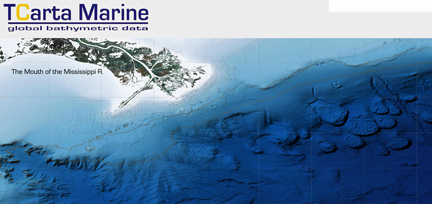 TCarta Marine aggregates bathymetric data from a wide variety of sources: navigational and bathymetric charts, ship tracklines, LiDAR surveys, satellite imagery, and sonar surveys (multi-beam and single-beam). The Wyoming firm applies a proprietary technique to reference each data set against the others and then merge them into a single, coherent bathymetric data model. The TCarta Marine off-the-shelf archive covers 80 percent of the world's coastal zones including hard-to-find data sets for Southeast Asia, Africa and Central America. The primary TCarta Marine product is the TCM Bathymetric GIS Package, consisting of shapefiles comprised of spot-depth and contour-line values, 1:60,000 scale coastline, and a raster model that is typically gridded at 90m. The 90m model facilitates easy merging with Space Shuttle SRTM terrestrial DEM data. In areas where more data are available, TCarta Marine uses 50m and 30m grids.
Please visit Proteus at the Oceanology International 2014 Conference in London from March 11-13, 2014.

For more information on Proteus products, visit http://www.proteusgeo.com/ — to learn more about TCarta Marine, visit http://www.tcarta.com/.