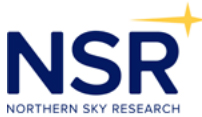 Recently released is NSR's UAS Satcom and Imaging Markets, 4th Edition (UAS4) — this study provides the industry's most comprehensive outlook on the UAS market.

Building on more than a decade of data and analysis from NSR's popular Global Military Satellite Communications and Satellite-Based Earth Observation (EO) research coverage, UAS4 provides an exhaustive analysis of UAS markets and the associated revenue opportunities for stakeholders, from satellite operators to geospatial data analytics companies, over the next ten years.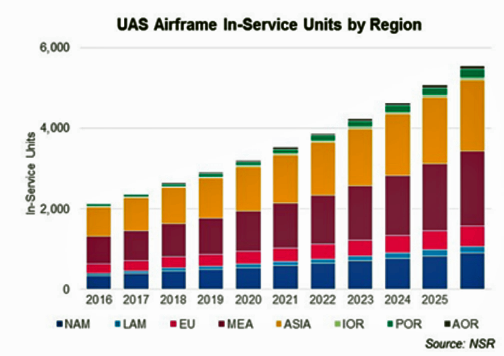 The report covers SATCOM and Imaging applications for UAS markets:
The SATCOM portion forecasts retail revenues, capacity demand and revenues, and equipment sales the satellite industry can expect for both Defense and Intelligence (D & I) and Civilian Government market HALE and MALE UAS, by region and frequency band. The SATCOM portion also includes additional military scenarios (pivots and regional strengths) to build a holistic overview of how the UAS and SATCOM ecosystem will grow in the next ten years.
The UAS Imaging portion of the report analyses and forecasts the global market for commercial sUAS services for imaging and analytics applications across five industry verticals and five regions. Forecasts are provided for two additional scenarios, projecting the revenue opportunity for UAS operators engaged in imaging and analytics applications.

The report answers critical questions regarding UAS SATCOM and Imaging:
How large is the SATCOM market for HALE and MALE UAS in the next 10 years?
Which frequency bands will play a key role in supporting UAS SATCOM services, and what will be the impact of HTS?
What is the SATCOM opportunity provided by Civilian UAS industry?
How will various market verticals, investments and regulations impact the commercial sUAS industry?
What is the market size of sUAS imaging and analytics, and how will it evolve in the next ten years?
What are the market sizing scenarios to be considered, and the impact of commercial sUAS imaging industry compared to Satellite-Earth Observation, by vertical market?
What are the UAS SATCOM equipment trends, and which emerging technologies could disrupt this market?
To order this informative report, please access this direct link...