Quite a few marine vessels from commercial to leisure yachts are enjoying KVH's TracPhone® V-series antenna systems. Recently KVH (Nasdaq: KVHI) shipped its 9,000th mini-VSAT BroadbandSM system that uses advanced satellite technology, including the latest high throughout satellites (HTS).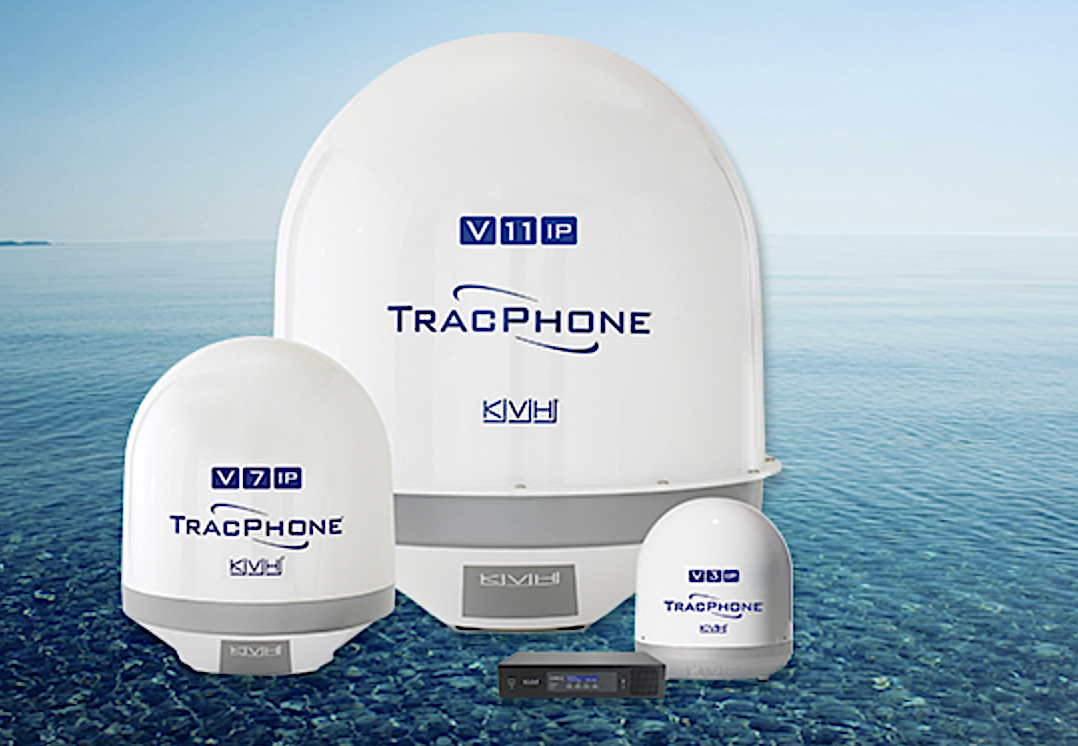 Because KVH's products and services provide solutions for such a wide array of marine vessels the company has been recognized for many years for their products such as the TracPhone V-series systems that received eight product excellence awards in the past nine years from the National Marine Electronics Association (NMEA).
Also, in Prospects for Maritime Satellite Communications, 6th Edition (2018), industry analysts at Euroconsult reported that KVH is the market share leader in maritime VSAT by units, noting that KVH's share of the maritime industry's fielded VSAT terminals is nearly double that of its next closest competitor, as of the end of 2017.
KVH's advanced TracPhone antenna systems include the TracPhone V3-HTS, a 37 cm diameter Ku-band ultra-compact maritime VSAT antenna, and the TracPhone V7-HTS, a 60 cm diameter Ku-band antenna. These HTS antenna systems are designed for KVH's mini-VSAT Broadband HTS network, which uses Intelsat Flex Maritime service, providing multi-layered global coverage through Intelsat EpicNG HTS and select wide beams.
KVH also manufactures the TracPhone V11-IP, a 1.1 meter diameter, dual-mode C-/Ku-band antenna for global VSAT connectivity. KVH's VSAT systems include the Integrated CommBox™ Modem (ICM), a belowdecks unit that replaces the need for a rack full of components and integrates all antenna control, onboard network management, and modem functions in one small box. The ICM also receives onboard news, entertainment, and operations content sent via KVH's IP-MobileCast™ content delivery service.
"Ever since we launched our mini-VSAT Broadband network more than 10 years ago, our antenna systems have been in demand by the maritime industry," says Martin Kits van Heyningen, KVH's chief executive officer. "Our solution is known for fast data speeds, affordable airtime, and an advanced, secure, and reliable network, which continues to be a winning combination as the maritime industry relies more and more on connectivity."
In addition to designing and manufacturing satellite antenna products, KVH provides maritime services such as AgilePlans®, launched in 2017, that is a subscription-based Connectivity as a Service (CaaS) model for the commercial maritime sector. The AgilePlans' success revealed that in the fourth quarter of 2018, it accounted for more than 62 percent of KVH's total commercial maritime VSAT shipments. KVH's all-inclusive, for one monthly fee, no-commitment AgilePlans CaaS includes;
connectivity via the mini-VSAT Broadband satellite network
a TracPhone V-series satellite communications antenna with free installation in select ports
news and training content delivered via satellite
delivery of chart and weather content