The Space Foundation has just released the findings of their highly informative publication, The Space Report 2018: The Authoritative Guide to Global Space Activity.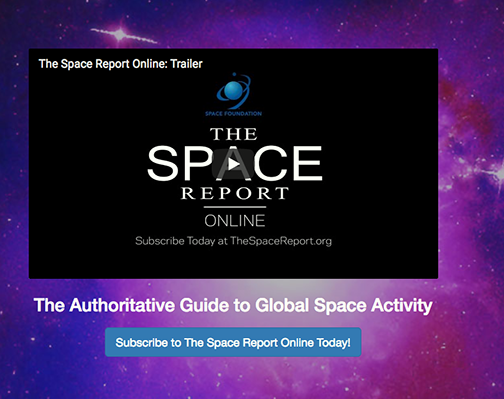 The Space Report is the definitive body of information about the global space industry. The findings in the 2018 report revealed that in 2017, the global space economy totaled $383.5 billion worldwide. Also, during 2017:
Seven countries/agencies spent more than $1 billion on
space
The U.S. share of global governmental space spending was 57 percent
There was a 7 percent increase in the number of orbital launch attempts worldwide
The U.S. share of global orbital launch activities was 33 percent
There was a 100 percent increase in the total number of spacecraft deployed and a 200 percent increase in the number of commercial spacecraft deployed
The U.S. share of global spacecraft deployed was 65 percent
The Space Report e-book is published annually by the Space Foundation, using in-house industry analysts to research and analyze government and industry trends in space activity. The e-book version of The Space Report 2018 is now available for purchase.

The Space Foundation offers an online service that provides subscribers with access to all the research conducted for The Space Report dating back to 2005, as well as new data sets that have never appeared in the report. This website provides users with updates throughout the year, as well as customizable charts and downloadable data for further analysis.