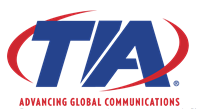 A compliment from the Telecommunications Industry Association (TIA), the association representing the manufacturers and suppliers of high-tech communications networks, to the Federal Communication Commission (FCC) for today's adoption of Spectrum Frontiers, and they commented the plan will help advance US 5G leadership. The rules open four new bands of high-frequency "millimeter-wave" spectrum above 24 GHz to mobile devices, and make the United States the only country to date that has opened high-band spectrum for 5G networks.
TIA CEO Scott Belcher issued the following statement:
"The FCC has gotten it right with Spectrum Frontiers, and the US is now in a stronger position to innovate and accelerate towards 5G. The FCC's plan frees a significant amount of new spectrum for mobile use, and does so without attaching strings or taking a wait-and-see approach. In this way, Spectrum Frontiers provides both the fuel that will be demanded by next-generation networks, and the predictability that is needed by technology companies.
"To be clear—as the world pushes towards the next-generation mobile network, our country doesn't have the competitive advantage that it had with 4G. US companies face a far more challenging environment, and the stakes are extremely high for their businesses and our economy. The world's 5G leaders will be able to sell their technologies globally and shape the wireless landscape for years to come. Spectrum Frontiers will help US companies move forward with 5G development more quickly and with greater confidence.
"But even with today's action, much work lies ahead. The new rules must be implemented in ways that deliver on the FCC's promise of a flexible approach, and we must continue to find new and creative ways to address our insatiable demand for more bandwidth.
"The FCC deserves great credit for taking this vital step, and we applaud the leadership of Chairman Wheeler and the hard work done by Commissioner Rosenworcel. We will continue to work with FCC and all policymakers to ensure that communications networks deliver tremendous economic and societal value for our country."