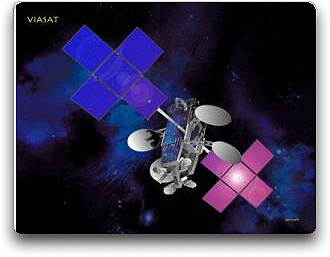 An agreement has been signed by International Launch Services (ILS) for the launch of the ViaSat-1 satellite, under construction by Space Systems Loral, on an ILS Proton.
The satellite is scheduled to
launch in the first half of 2011
from the
Baikonur Cosmodrome in Kazakhstan
. ViaSat-1 is a high capacity Ka-band spot beam satellite, which is
expected to be the highest capacity of all current and planned North American satellites with 10 times the throughput of any other Ka-band satellite.
ViaSat-1 will provide
broadband Internet services
to customers and businesses across
North America
.
"We are honored with ViaSat's selection of an ILS Proton for the critical role of launching the ViaSat-1 satellite.
With Proton, ViaSat's launch on demand requirements with a dedicated, heavy-lift vehicle will be met
. ViaSat has put their trust in us to launch their first broadband services satellite and we look forward to an ongoing, successful partnership," said
Frank McKenna
,
President of ILS
.
ViaSat Inc. CEO
Mark Dankberg
said, "The selection of ILS and Proton to launch ViaSat-1
provides the best overall value to meet our business and program requirements
. We needed a dedicated, heavy-lift vehicle with a proven record for on-time delivery. We are pleased to partner with ILS in meeting the expectations of our customers."
ILS provides mission and launch services for global satellite operators. The
company has exclusive rights to market the Proton vehicle
and is a U.S. company headquartered in Reston, Va., near Washington, D.C.
Khrunichev holds the majority interest in ILS
and is one of the cornerstones of the Russian space industry. The company manufactures the Proton system and is
developing the Angara launch system
. The Proton launches from facilities at the Baikonur Cosmodrome in Kazakhstan, and has a heritage of
over 340 missions since 1965
.