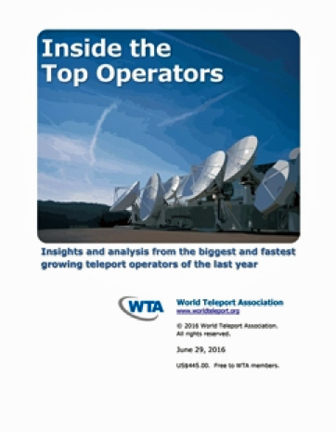 The World Teleport Association (WTA) has just released a new research report entitled: Inside the Top Operators (2016)—the report analyzes data from the Top Operator Rankings of 2015, released by WTA in December.
"This edition of Inside the Top Operators is quite revealing. It examines the level of change, innovation and even infers some gaps that might be occurring as the teleport industry continues to adapt to a much different set of satellite options and network configurations," said WTA Executive Director Robert Bell. "This report will hopefully guide large and small operators as they plan their investments and strategies going forward."
WTA first published the Top Operator rankings in 2004 to focus attention on the important, but often unsung, role that satellite service providers play in the satellite communications market. New rankings have been published every year since then, based on an annual survey of operators as well as review of financial data from publicly-traded firms. From this information, WTA publishes rankings of:
The Global Top 20 companies by revenue including independents and satellite/fiber operators
The Independent Top 20 companies by revenue excluding satellite/fiber operators
The Fast 20, based on year-over-year revenue growth, including independents and satellite/fiber operators
The Top Operators respondents provides financial data for the past two complete fiscal years and also presents shared information on markets, pricing and services at the end of the 2015 calendar year. Their responses uncovered several market trends:
Same-company revenues declined. Revenues for calendar 2014 from the same companies reporting the previous year declined for the first time in our analysis after increasing in each of the prior four years.
Terrestrial connectivity pricing parallels satellite price trends. For the past several years, the pricing trend for resale of satellite and terrestrial connectivity has differed sharply, according to respondents. In most years, a much larger percentage of respondents reported price declines for satellite capacity resale, while terrestrial connectivity pricing was more stable. This year, the two were reported to be moving in lock-step, with 60-70 percent reporting no change in pricing.
Data-centric operators continue driving into media markets. As government revenues decline through a combination of recession and military drawdown, data-centric operators are increasing the percentage of revenues they draw from the media & entertainment sector.
The heat is off the maritime market. Maritime and government were the only sectors where respondents reported declining volumes of business. In maritime, 42 percent of respondents reported increasing volume while 58% reported stagnant or declining volume. This is at odds with the perception that maritime remains one of the hot markets for satellite communications growth.
Inside the Top Operators (2016) can be accessed from the WTA Store.