Orbital ATK (NYSE: OA) successfully launched the company's Antares™ rocket carrying its Cygnus™ spacecraft on May 21 at 4:44 a.m. EDT from the Mid-Atlantic Regional Spaceport Pad 0A on Wallops Island, Virginia, at NASA's Wallops Flight Facility.
The mission, designated OA-9, is Orbital ATK's ninth cargo delivery mission for NASA. The Antares medium-class rocket matches its record for the heaviest cargo load carried to date with approximately 7,400 pounds (3,350 kilograms) of vital supplies and scientific equipment that will support the crew aboard the International Space Station.
The Cygnus spacecraft is scheduled to rendezvous and berth with the station on May 24, 2018. This mission marks the first flight for Cygnus's upgraded communications system, known as Common Communication for Visiting Vehicles (C2V2), which provides the opportunity for enhanced communication with science payloads and an improved interface with hosted payloads on future missions.
Astronauts soon will have new experiments to conduct related to emergency navigation, DNA sequencing and ultra-cold atom research when the research arrives at the International Space Station following the 4:44 a.m. EDT Monday launch of an Orbital ATK Cygnus spacecraft.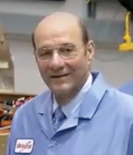 Orbital ATK names each Cygnus spacecraft in honor of astronauts and individuals who contributed to the United States' commercial space program. The OA-9 mission honors J.R. Thompson, a distinguished leader in the aerospace industry. Thompson helped shape the strategy and directed the operations of Orbital ATK's predecessor company, Orbital Sciences Corporation, for nearly 25 years. Before joining Orbital, Thompson was NASA's Deputy Administrator in Washington, D.C., from 1989 to 1991, following a three-year period as Director of NASA's Marshall Space Flight Center in Huntsville, Alabama.
NASA astronauts Scott Tingle and Ricky Arnold will use the space station's robotic arm to capture Cygnus when it arrives at the station Thursday, May 24. Live coverage of the rendezvous and capture will air on NASA Television and the agency's website beginning at 3:45 a.m. Installation coverage is set to begin at 7:30 a.m. Upon arrival at the space station, the "S.S. J.R. Thompson" will be unloaded and prepped for the next phase of its mission. Cygnus will remain docked for approximately seven weeks to allow the astronauts aboard the space station to repack the module with items that are no longer needed on the orbiting laboratory. The removal of these objects is a crucial step in keeping the International Space Station operational. Once Cygnus is unberthed, a NanoRacks deployer will deploy six cubesats.
Under the CRS-1 contract with NASA, Orbital ATK will deliver approximately 66,000 pounds (30,000 kilograms) of cargo to the International Space Station. To date Orbital ATK has delivered nearly 44,000 pounds (20,000 kilograms) and will complete its CRS-1 contract with the OA-10 mission this fall and the OA-11 mission next year.
Included in the cargo in the pressurized area of Cygnus is a centuries-old method of celestial navigation. The Sextant Navigation investigation will explore the use of a hand-held sextant for emergency navigation on missions in deep space as humans look to travel farther from Earth. The ability to sight angles between the Moon or planets and stars offers crews another option to find their way home if communications and main computers are compromised.
Monitoring crew health and the biological environment of the space station, and understanding long-term effects of space travel on both, are critical to NASA's plans for long-duration, deep space exploration. The Biomolecule Extraction and Sequencing Technology (BEST) study is the agency's next step toward advancing in-space DNA sequencing technologies that can identify microbial organisms living on the space station and understanding how the DNA of humans, plants and microbes are affe cted by microgravity. BEST will use a process that sequences DNA directly from a sample, with minimal preparation, rather than using the traditional technique of growing a culture from the sample.
In the realm of modern physics, the new Cold Atom Lab (CAL) on Cygnus could help answer some big questions. CAL creates a temperature 10 billion times colder than the vacuum of space, then uses lasers and magnetic forces to slow down atoms until they are almost motionless. In the microgravity environment of the space station, CAL can observe these ultra-cold atoms for much longer than possible on Earth. Results of this research could lead to a number of improved technologies, including sensors, quantum computers and atomic clocks used in spacecraft navigation.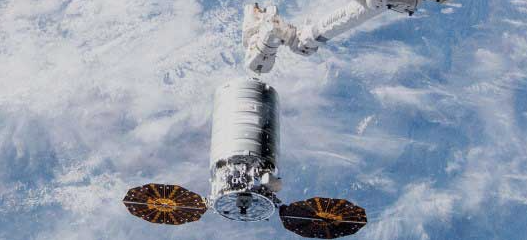 Cygnus is scheduled to depart the station in July with several tons of trash and burn up during re-entry into Earth's atmosphere, over the Pacific Ocean.v
For more than 17 years, humans have lived and worked continuously aboard the International Space Station, advancing scientific knowledge and demonstrating new technologies, making research breakthroughs not possible on Earth that will enable long-duration human and robotic exploration into deep space. A global endeavor, more than 200 people from 18 countries have visited the unique microgravity laboratory that has hosted more than 2,400 research investigations from researchers in 103 countries.
Beginning in 2019, Orbital ATK will carry out a minimum of six initial cargo missions under NASA's CRS-2 contract. The commercial resupply partnership with NASA is enhancing a robust American commercial space industry, freeing NASA to focus on developing the next-generation rocket and spacecraft that will enable humans to conduct deep space exploration missions.
Coverage of the Antares launch and Cygnus berthing with the station is available on NASA Television.