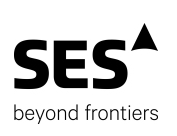 A multi-year capacity agreement between SES (Euronext Paris:SESG) (LuxX:SESG) and MultTV will enable MultTV's ISP customers to deliver TV content to their Internet subscribers via IP. MultTV, a Brazilian communications company that specializes in providing video services to smaller regional Internet Service Providers, will use C-band capacity on SES-6 to transmit a mix of approximately 60 SD and HD channels to its ISP customers, who will in turn distribute the content to their subscribers.
The partnership will allow MultTV's ISP customers to enhance the offer to their subscribers by adding TV content to their broadband services. All TV signals will be transmitted from a headend in the sky to all MultTV customers, reducing infrastructure costs. In addition, the partnership will streamline service availability, as subscribers will only need a new set top box.
In order to provide the best content to its customers, MultTV relies on NeoTV, a Brazilian association which brings together small and medium size Pay-TV operators and supports its associates by negotiating access to TV content for them. As one of NeoTV's associates, MultTV benefits from the content packages negotiated by the association with content owners, which enables the company to bring content to its customers in a cost-efficient way.
SES has recently announced a new market-centric operating model, creating two distinct and highly customer-focused business units, SES Video and SES Networks. SES Video consolidates all SES broadcasting, media and video service businesses; it continuously advances linear broadcast technology, while expanding its services and end-to-end content delivery solutions to help customers capture new business opportunities in the quickly evolving video value chain.
The agreement with MultTV demonstrates the agnostic approach of SES Video when it comes to distribution platforms, and its ability to deliver all types of video services and meet the diverse needs of its customers.
Jurandir Pitsch, Vice President Sales Latin America and Caribbean of SES Video said this contract is unique and very important for the Brazilian market, as it will provide a headend in the sky that will bring a video package to MultiTV's customers in the entire country, including remote areas, and with this project, MultTV will be able to provide a broader service to its customers by offering new entertainment and connectivity packages.
Osmir Petrini, Associate Director at MultTV added that they expect that within a year, 150 of their ISP customers will be using SES-6 to transmit pay-TV content to their subscribers. They are very pleased to have SES as a partner, as they can count on its reliable satellite infrastructure and expertise to offer the best services to their customers in Brazil.
Alex Jucius, Director General of NEOTV stated tat NeoTV will help MultTV bring the best television channels to its end-consumers as they reach over 2,000 cities in Brazil and have extensive experience negotiating content with programmers, producers and TV channels. This project brings huge opportunities for small-sized Internet Service Providers in Brazil, as it allows them to expand the services offered to their subscribers.