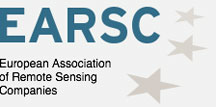 A non-profit organization that is aimed to promote the use of Earth-observation (EO) and European companies which offer EO-related products and services is EARSC is the European Association of Remote Sensing Companies (EARSC).

Now, EARSC and Japan Space Systems (J-spacesystems) signed a memorandum of understanding (MoU) on November 23, 2016, to develop synergies and strengthen cooperation in business, research and technology between Europe and Japan in the use of Earth Observation (EO) technology. The EU-Japan Center for Industrial Cooperation will act as an intermediary support organization to support activities between the two parties as part of its objective to facilitate EU-Japan industrial cooperation under its Space.Japan project.
The memorandum was signed on behalf of EARSC by the Chairman of the Board of Directors, Chetan Pradhan, and J-spacesystems President of the Board of Executives, Yoshiharu Kunogi with the presence of Ms. Yoko Kadoya representing the EU-Japan Centre for Industrial Cooperation. The brief signing ceremony took place in Brussels, Belgium at an opportune time—the day after the European Commission held the EU Copernicus User Forum Industry Workshop "Internationalization of European Earth Observation Companies".
The memorandum serves to provide a framework for understanding and cooperation between the Parties to achieve their common goals regarding development of partnerships and joint events. The Parties also aim to benefit from the sharing of best practices and exchange of experiences, information and technologies relating to EO which are not available in their home locations. The cooperation will be coordinated by EARSC's Secretary General, Mr. Geoff Sawyer, and JSS' Director General, Mr. Hisanobu Takayama with additional support from the EU-Japan Centre.
The areas of cooperation include:
Exchange of information a foster cooperation in the use of EO technologies and applications between Europe and Japan
Organization of joint meetings/events to build up cooperation between the EU and Japan in relation to EO technologies and applications
Cross-promotion of other mutual opportunities of interest for the both parties
This above list is not exhaustive and both parties do not exclude cooperation on other issues of mutual interest