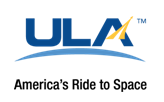 [Satnews] United Launch Alliance Atlas' V rocket tore through the air from its launch pad at the Cape Canaveral Air Force Station, at 12:13 pm. EDT carrying GPS IIF-11 for the US Air Force. This is the 11th in a series of 12 satellites for the US Air Force designed to improve navigational information for troops around the world.
Statement from ULA
United Launch Alliance Successfully Launches GPS IIF-11 Satellite for U.S. Air Force
Cape Canaveral Air Force Station, Florida, (Oct. 31, 2015) – A United Launch Alliance (ULA) Atlas V rocket carrying the Global Positioning System (GPS) IIF-11 satellite for the U.S. Air Force lifted off from Space Launch Complex-41 October 31 at 12:13 p.m. EDT.
GPS IIF-11 is one of the next-generation GPS satellites that incorporate numerous improvements to provide greater accuracy, increased signals and enhanced performance for users.
"Congratulations to the entire team on today's successful launch of the GPS IIF-11 satellite! Today's launch was made possible by the exceptional performance and teamwork exhibited by the entire team, including the men and women of ULA, our many mission partners, and our U.S. Air Force customer," said Jim Sponnick, ULA vice president, Atlas and Delta Programs. "GPS is omnipresent in our everyday lives and the system provides a critical service to the all of those serving in our military around the world. All of the operational GPS satellites have been launched on Atlas and Delta rockets and the U.S. Air Force does an outstanding job of operating this essential system."
This mission was ULA's 11th launch in 2015 and the 102nd successful launch since the company was formed in December 2006. This mission was launched aboard an Atlas V Evolved Expendable Launch Vehicle (EELV) 401 configuration vehicle, which includes a 4-meter diameter payload fairing. The Atlas booster for this mission was powered by the RD AMROSS RD-180 engine and the Centaur upper stage was powered by the Aerojet Rocketdyne RL10C-1 engine.
GPS IIF-11 will join the GPS worldwide timing and navigation system utilizing 24 satellites in six different planes, with a minimum of four satellites per plane positioned in orbit approximately 11,000 nautical miles above the Earth's surface. The GPS IIF series provides improved accuracy and enhanced performance for GPS users.
ULA's next launch is the Atlas V OA-4 capsule for Orbital ATK scheduled for December 3 from Space Launch Complex-41 from Cape Canaveral Air Force Station, Florida.
The EELV program was established by the U.S. Air Force to provide assured access to space for Department of Defense and other government payloads. The commercially developed EELV program supports the full range of government mission requirements, while delivering on schedule and providing significant cost savings over the heritage launch systems.
With more than a century of combined heritage, United Launch Alliance is the most experienced and reliable launch service provider. ULA has successfully delivered more than 100 satellites to orbit that provide critical capabilities for troops in the field, aid meteorologists in tracking severe weather, enable personal device-based GPS navigation and unlock the mysteries of our solar system. —END—
The launch was originally slated for yesterday, Friday, October 30, however during the final launch preparations of the ULA Atlas V launch vehicle a leak was discovered in a ground support equipment valve for launch pad water suppression system.
While the USAF will be utilizing the GPS info from the satellites they are also helping to improve the GPS technology that is used in our cars and on our smartphones. They say it's also helping the economy, from agriculture to automobiles.

"I know that a couple of the commercial automakers out there have been trying to do driverless cars, so it's very important aspect, you want to make sure that you have the most accuracy possible, so GPS IIF helps us do that," said 1st Lt. Benjamin Nguyen, Spacecraft Responsible Engineer.

This is the third GPS satellite that United Launch Alliance has launched this year for the US Air Force. The 12th and final satellite in the IIF series is set to launch from the cape on February 3, 2016.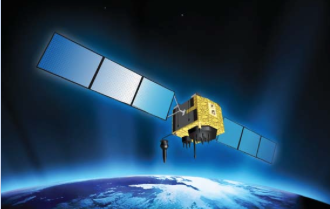 GPS utilizes 24 satellites, in six different planes, with a minimum offour satellites per plane, positioned in orbit approximately 11,000 nautical miles above the Earth's surface. The satellites continuously transmit digital radio signals pertaining to the exact time (using atomic clocks) and exact location of the satellites. The GPS IIF series have a design life of 12 years. With the proper equipment, users can receive these signals to calculate time, location, and velocity. The signals are so accurate that time can be measured to within a millionth of a second, velocity within a fraction of a mile per hour, and location to within feet. Receivers have been developed for use in aircraft, ships, land vehicles, and to hand carry.
As a result of increased civil and commercial use as well as experience in military operations, the USAF has added the following capabilities and technologies to the GPS IIF series to sustain the space and control segments while improving mission performance:
Two times greater predicted signal accuracy than heritage satellites.
New L5 signals for more robust civil and commercial aviation.
An on-orbit, reprogrammable processor, receiving software uploads for improved system operation.
Military signal "M-code" and variable power for better resistance to jamming hostile environments, meeting the needs of emerging doctrines of navigation warfare.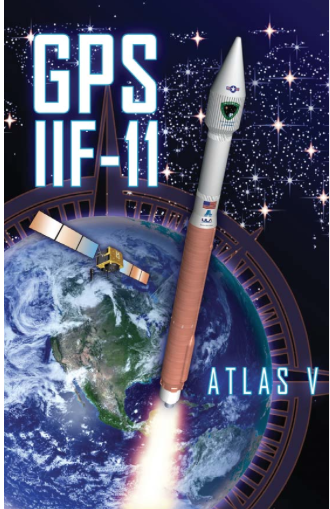 The GPS satellites serve and protect warfighters by providing navigational assistance for US military operations on land, at sea, and in the air. Civilian users around the world also use and depend on GPS for highly accurate time, location, and velocity information.
GPS IIF-11 will be the third GPS mission ULA launches in 2015: GPS IIF-9 launched on a Delta IV in March, and GPS IIF-10 launched in July. This mission will be ULA's 11th in 2015 and 102nd since the company was founded in 2006.
GPS satellites fly in medium Earth orbit (MEO) at an altitude of approximately 20,200 km (12,550 miles). Each satellite circles the Earth twice a day.
The satellites in the GPS constellation are arranged into six equally-spaced orbital planes surrounding the Earth. Each plane contains four "slots" occupied by baseline satellites. This 24-slot arrangement ensures users can view at least four satellites from virtually any point on the planet.
The Air Force normally flies more than 24 GPS satellites to maintain coverage whenever the baseline satellites are serviced or decommissioned. The extra satellites may increase GPS performance but are not considered part of the core constellation.
In June 2011, the Air Force successfully completed a GPS constellation expansion known as the "Expandable 24" configuration. Three of the 24 slots were expanded, and six satellites were repositioned, so that three of the extra satellites became part of the constellation baseline. As a result, GPS now effectively operates as a 27-slot constellation with improved coverage in most parts of the world.