[SatNews] They want to expand their footprint to high-growth Asia-Pacific markets so they acquired a bigger footprint...and will rename it...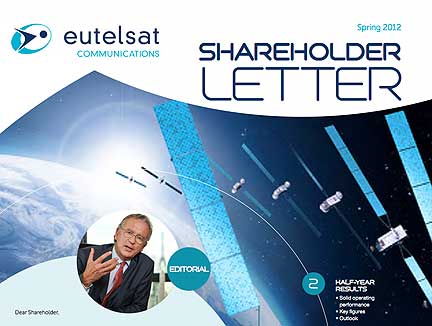 GE's Satellite, GE-23. Eutelsat Communications (ISIN: FR0010221234 - Euronext Paris: ETL), announced it has concluded negotiations to acquire the GE-23 satellite, associated customer contracts and orbital rights from GE Capital for US$228 million. It will be renamed EUTELSAT 172A. The transaction is expected to close in the second half of 2012 (calendar), subject to regulatory approvals.
The purchase is described as a high quality asset. Built by Thales Alenia Space, GE-23 was launched in December 2005 and has an expected useful life of 15 years. From its location in geostationary orbit at 172°E, the satellite offers unique coverage over the Asia-Pacific region via a payload of 20 Ku-band transponders accessing five interconnecting beams and 18 C-band transponders connected to a trans-Pacific beam.
Leveraging its comprehensive coverage and high-bandwidth capability, GE-23 offers a broad range of telecom services to a diverse base of blue chip customers. GE-23 will be integrated into the Eutelsat Communications fleet, with a smooth transition for existing customers. It will be renamed EUTELSAT 172A.
The acquisition of GE-23 fits with Eutelsat's strategy to expand its presence in the most dynamic geographic regions. The satellite brings coverage of the Asia-Pacific markets where growth is driven by a broad range of applications. It will complement Eutelsat's organic initiatives, notably the EUTELSAT 70B satellite, equipped with a dedicated Asian beam, which is scheduled to launch in Q4 2012 (calendar).
With GE-23, Eutelsat is also acquiring a quality customer portfolio with a strong track record of contract renewals. The extended coverage also opens the way for Eutelsat to broaden its offering to its existing clients and to develop new business.
This action is consistent with Eutelsat Communications' focus on value creation. The opportunity was assessed consistently with the Group's disciplined approach to both organic and external growth opportunities. The transaction is expected to be accretive to EBITDA margin and to EPS in year one.
It will be financed through Eutelsat's existing liquidity. From a leverage standpoint, it will lead to a moderate increase in the Net Debt / EBITDA ratio, and will therefore have no material impact on Eutelsat's financial flexibility.