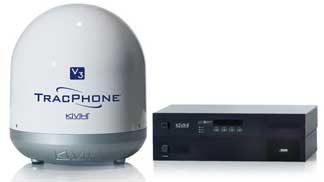 [SatNews] While much of the world is shivering there's new information to keep you warm from the Miami International Boat Show.
Today's unveiling of the
ultra-compact TracPhone® V3
represents the latest advancement in maritime satellite communications from KVH Industries, Inc., (Nasdaq: KVHI).
Introduced today at the
Miami International Boat Show, the TracPhone V3 is the world's smallest maritime VSAT antenna, measuring just 14.5" (37 cm) in diameter and weighing only 25 pounds (11 kg). The TracPhone V3 offers outstanding data rates with download speeds as fast as 2 Mbps on KVH's proven, global mini-VSAT BroadbandSM network. With the simplest and most affordable cost structure available, users can enjoy Internet access and e-mail for just $0.99 per MB along with crystal-clear voice calls worldwide for only $0.49 per minute. This compares with published airtime rates of well over $10 per MB from competing L-band services like Inmarsat.
"The TracPhone V3 will definitely change the way mariners think about satellite communications. We are
excited to offer accessible, affordable broadband Internet access via this ultra-compact system and our proven, global mini-VSAT Broadband network
," explains
Martin Kits van Heyningen
,
KVH's president and chief executive officer
. "For years we've heard people complain about the high prices charged for satellite communications services like Inmarsat. We set out to design a new product that was the size and cost of a Inmarsat FleetBroadband terminal with much faster data speeds and significantly lower airtime rates.
The TracPhone V3 has it all – ultra-compact hardware, simple installation and operation, and true global broadband at affordable rates."
The TracPhone V3 includes a
fully stabilized antenna, a powerful ViaSat ArcLight® spread spectrum modem, and a sleek below-decks antenna control unit that are all fully integrated and configured for easy installation.
ArcLight spread spectrum technology enables very small antennas like KVH's 24" (60 cm) TracPhone V7 and now, the TracPhone V3 to receive satellite transmissions with the speed and reliability of older, 1-meter VSAT antennas that use TDMA transmission schemes.
KVH's high-efficiency RingFire™ antenna design and dielectric feed rod technology mean the TracPhone V3
offers great performance, even in poor weather, and its rugged design is perfect for use on tuna towers and commercial vessels.
"We know of many vessels that will benefit from this long-awaited development," explains Kits van Heyningen. "From
commercial fishing vessels to yachts to work boats, the TracPhone V3 will bring truly affordable broadband Internet access, e-mail, and voice services to mariners who need and want them
. We look forward to welcoming all of them to the KVH family and showing them why so many owners and operators of larger vessels, who have adopted our NMEA award-winning TracPhone V7, swear by KVH and the mini-VSAT Broadband network."
The TracPhone V3 joins KVH's highly successful TracPhone V7 in KVH's mini-VSAT Broadband product line. The award-winning TracPhone V7 is ideal for heavy data users who want fixed-price, speed-based airtime plans like those typically offered with VSAT systems. For mariners who don't need an enterprise-level SATCOM solution, the TracPhone V3 provides the metered rate plans and compact design typical of L-band services like Inmarsat with the faster data speeds and low cost of mini-VSAT Broadband.
VSAT solution, the mini-VSAT Broadband's seamless worldwide network is delivered by 13 satellite transponders and 10 secure Earth stations and offers significant cost savings compared to competing services. In 2010, KVH delivered more than 60 terabytes of data and handled more than 1.5 million voice calls to and from vessels around the globe via the mini-VSAT Broadband network. The TracPhone V7 is the world's best selling maritime VSAT system, offering a total end-to-end solution for commercial vessels with onboard networks.
Note:
Comparison to Inmarsat airtime rates based on "Stratos Retail Inmarsat FleetBroadband Rate Card" dated October 2010.