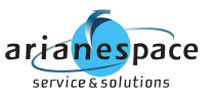 Arianespace's sixth Ariane 5 for launch this year is ready to receive the mission's multi-satellite payload after being transferred to the Spaceport's Final Assembly Building in French Guiana.
The heavy-lift workhorse rolled out yesterday from the Launcher Integration Building where its core cryogenic stage, two solid boosters and cryogenic upper stage were mated by production prime contractor Airbus Safran Launchers to the Final Assembly Building, marking the formal handover to Arianespace. Now under Arianespace's responsibility, the launcher—an Ariane 5 ES version—is set for integration of its payload: four global positioning satellites for Europe's Galileo navigation system.
The upcoming Ariane 5 launch, designated Flight VA233 in Arianespace's numbering system, is set for a morning departure from the Spaceport on November 17th at an exact liftoff time of 10:06:48 a.m. in French Guiana.
Weighing between 715 and 717 kg each, the quartet of European Galileo satellites will have a combined liftoff mass of 2,865 kg and they will be deployed by Ariane 5 into a circular orbit during a mission that should last for just under four hours. The Galileo satellites were built by OHB System in Bremen, Germany, with their navigation payloads provided by Surrey Satellite Technology in the United Kingdom.