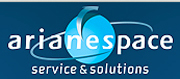 The medium-lift Soyuz for Arianespace's upcoming launch from French Guiana is now complete, following the integration of the "upper composite," which consists of a five satellite payload to support European sustainable development and science, while also promo'ing science and technology careers.
This activity occurred at the Spaceport's ELS launch complex, starting with the upper composite's transfer from the S3B payload preparation facility to the launch pad on a special transporter. After arriving at the ELS site's launch pad, the upper composite was hoisted to the upper level of a purpose-built mobile gantry—which provides a protected environment for the vertical installation atop Soyuz.
Designated Flight VS14, the Soyuz mission will being with a liftoff at exactly 06:02:13 p.m. (French Guiana local time) on April 22. The launch vehicle will deploy the passengers into LEO during a mission lasting 4 hours and 52 seconds.
The first spacecraft to be deployed will be Sentinel-1B, a satellite that joins the space segment of Copernicus—the European Commission's program with the European Space Agency (ESA). Sentinel-1B is a C-band radar observation platform that is designed to provide a comprehensive solution for radar surveillance of the environment and for security issues. This payload has a liftoff mass estimated at 2,164 kg.
The next to be released is a trio of "Fly Your Satellite!" CubeSats, miniaturized spacecraft that provide European university students practical experience in key phases of a real satellite project. The CubeSats weigh 1 kg each and are deployed from Soyuz via a 3 kg dispenser.
Completing the mission will be the release of the CNES French space agency's Microscope scientific satellite, which will verify the equivalency principle for inertial and gravitational mass as stated by iAlbert Einstein. Microscope has an estimated liftoff mass of 303 kg.
Flight VS14 will be Arianespace' intiail Soyuz flight of 2016 and is one of 12 missions planned from the Spaceport this year via the company's launcher family. So far this year, Arianespace has conducted two flights, both using Ariane 5.