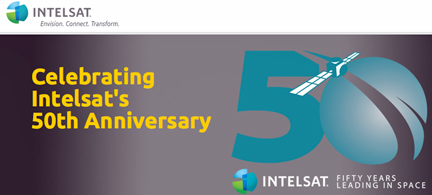 [SatNews] Intelsat S.A., (NYSE: I) and CANAL+ OVERSEAS have renewed and expanded a multi-transponder, long-term agreement on Intelsat 903 at Intelsat's 325.5 degrees East video neighborhood—CANAL+ OVERSEAS will use the high power Ku-band satellite capacity to further expand its HD, DTH programming in the Caribbean.
Under the agreement, CANAL+ OVERSEAS will continue to use multiple transponders on the Intelsat 903 satellite premier video neighborhood. Starting in 2017, CANAL+ OVERSEAS will transition its capacity to the follow-on satellite at that location, Intelsat 35e. With more than 160 SD and HD channels, Intelsat 903 at 325.5 degrees East is the leading DTH neighborhood serving the French Caribbean territories.
"Intelsat worked closely with us to understand our long-term business requirements for serving the Caribbean region, "said CANAL+ OVERSEAS" CTO Bruno Cattan. "As a result, Intelsat designed and customized a spot beam on Intelsat 35e, resulting in an optimized DTH distribution platform that will deliver greater DTH power to a broader coverage area. With more efficient distribution, the solution will better enable us to expand our service offerings and growth opportunities to all French territories in the region."
Jean-Philippe Gillet, vice president, Europe, Middle East and Africa (EMEA) sales at Intelsat. said, "The Intelsat 903 video neighborhood will enable CANAL+ OVERSEAS to further expand their services and deliver unique programming to their customers in new and exciting ways."
Intelsat will be exhibiting at the NABSHOW 2014, the world's largest electronic media show covering filmed entertainment and the development, management and delivery of content across all mediums on April 7-10, 2014. You can visit Intelsat at the Las Vegas Convention Center in the South Upper Hall, Booth SU 3110.

Additionally, Intelsat S.A. has signed a new multi-year agreement with RRsat Ltd., under which RRsat will use Intelsat capacity to facilitate and further enhance RRsat's penetration in the North American direct-to-home (DTH) market.
RRsat will use the power of the Galaxy 19 video neighborhood. Located at 97 degrees West, Galaxy 19 serves as the premier U.S. neighborhood for Free-To-Air (FTA) multicultural programming, distributing content originating from 66 countries around the world in over 40 different languages. The satellite offers a Ku-band DTH platform that services customers in the United States, reaching millions of homes.
"In today's multicultural society, our customers' audiences are demanding more diverse and unique programming, regardless of their location," said Lior Rival, RRsat's Chief Commercial Officer. "As we continue to enhance our presence in the United States, Intelsat's Galaxy 19 video neighborhood is a natural choice for RRsat as it will enable us to deliver on that demand and further expand our customer base."
The Intelsat infosite is located at http://www.intelsat.com/
The CANAL+ infosite may be accessed via http://www.canalplus-overseas.com/