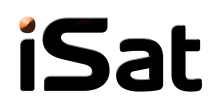 The Satcom Division of Communications & Power Industries (CPI) has been contracted to work with Integrated Satellite Applications Technologies Ltd. (iSAT) for high power traveling wave tube amplifiers (TWTAs) operating in the reverse DBS/low Ka-band and extended Ku-band frequency ranges.
CPI's amplifiers will be used by iSAT to support a $1 million award to iSAT by a major satellite operator and service provider in the Middle East for a turnkey system.
David Harper, chief executive officer of iSat stated, "iSat has a proven track record of integrating Ka-band systems at these higher, emerging frequencies and is very pleased to be working with CPI to provide a robust and cost-effective solution to our customer in the Middle East. We look forward to further opportunities to work with CPI in the future."
CPI manufactures high-power communications amplifiers that include solid-state power amplifiers (SSPAs), TWTAs and klystron power amplifiers that are used in fixed and mobile gateways for both military and commercial applications. CPI offers amplifiers in frequencies from S-band to V-band and supports their products in more than 20 service centers worldwide.
iSat designs, manufactures and installs specialized satellite Earth stations and very small aperture terminals (VSAT) covering frequencies from C-band to Ka-band. In addition to standard-frequency products, iSat manufactures VSATs for operation in X-band and the emerging Ku- and Ka- frequencies, including the 12.75 GHz to 13.25 GHz "Appendix 30B" Ku-band expansion bands and the extended DBS and inverted Ka-bands.
http://www.cpii.com/division.cfm/4