Sierra Nevada Corporation (SNC) and the United Nations Office for Outer Space Affairs (UNOOSA) have signed a Memorandum of Understanding toward defining one or more Dream Chaser missions that will host payloads from member countries.
SNC's Dream Chaser is a reusable, orbital spacecraft designed to be a flexible Space Utility Vehicle (SUV) and transportation system for a variety of low-Earth orbit (LEO) missions.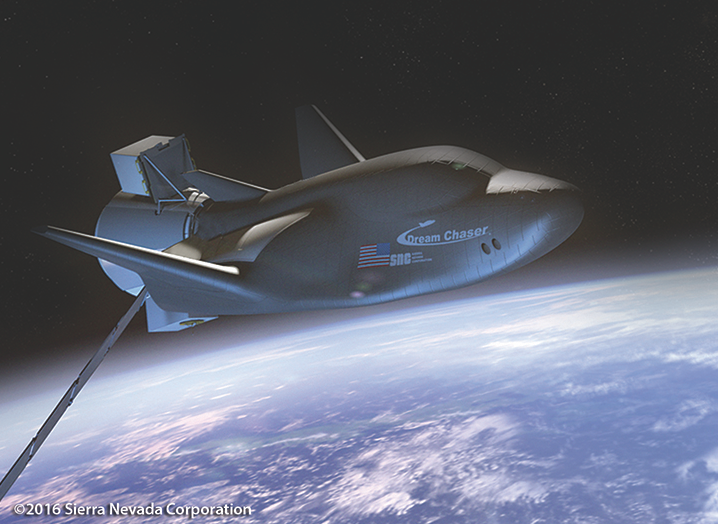 Under the agreement, UNOOSA and SNC will work with member countries to develop an interface control document and payload hosting guide to allow payloads developed by participating countries to be hosted and operated on a dedicated mission, providing those countries affordable access to space. By utilizing Dream Chaser as a flexible SUV for LEO missions, countries will benefit from social, economic and educational opportunities.
"SNC is honored to partner with UNOOSA under our Dream Chaser Global Initiative to offer access to space to a wide range of countries, from those with well-defined space programs and objectives, to developing countries who would like the social and economic benefits of a space program without the time and financial burden of developing the necessary infrastructure," said Mark N. Sirangelo, corporate vice president for SNC's Space Systems business area. "Our vison, in partnership with the UN, is to provide UN member countries affordable access to space and a range of multi-mission opportunities using the Dream Chaser spacecraft to host a wide range of payloads. Countries will be able to customize their participation level commensurate with the maturity of their space capabilities and national desires, while engaging their universities, industrial companies and government laboratories, and most importantly, their people. We offer a complete turnkey solution for participants, providing not only the spacecraft, but all aspects of flight including mission planning and operations."
Recently selected to provide cargo delivery, return and disposal services for the International Space Station (ISS) under NASA's Commercial Resupply Services 2 (CRS2) contract, SNC's Dream Chaser spacecraft is the only reusable, lifting-body, multi-mission-capable SUV with a commercial runway landing capability - anywhere in the world. The Dream Chaser is a safe, affordable, flexible and reliable system capable of crewed and uncrewed transportation services to LEO destinations such as the International Space Station. http://www.sncorp.com