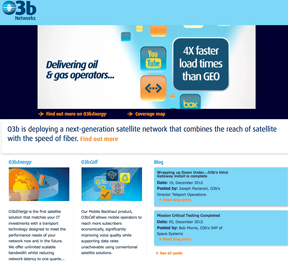 [SatNews] The American Samoa Telecommunications Authority (ASTCA) and O3b Networks have signed agreements for...
...O3b Networks to provide up to 1.2Gbps of future broadband connectivity for Internet and other services for American Samoa starting in 2013. O3b Networks is launching a Middle Earth Orbit constellation of satellites that deliver fiber speed and satellite reach for Pacific Island nations. Because O3b satellites are situated in orbit at only 8062km over the planet, they are four times closer than the geosynchronous satellites that have served American Samoa in the past. This proximity dramatically reduces roundtrip delay for voice calls and web surfing. The O3b constellation will be ready for service in the third quarter of this year.
Today, the territory is served by a single submarine fiber optic cable. The performance of the O3b satellite link will be protected by a state of the art, dual 7.3 meter antenna array at the ASTCA Ili'ili Teleport. The increase in capacity will enable ASTCA and other service providers to offer more broadband based services to the residents of American Samoa.
One of the reasons for the lack of broadband penetration in American Samoa, which was surveyed to be at 4.5 percent Internet penetration, has been the expensive nature of the backhaul. Traditional satellite and submarine fiber optic solutions have been priced well outside of affordable for the local economy. The agreement between ASTCA and O3b changes the broadband landscape significantly by bringing fiber optic capacities at prices and terms that are affordable and economically feasible for the islands' service providers. ASTCA may extend the benefits of 03b capacity to serve all of Samoa.