[SatNews] Stena Line, the established ferry operator in North West Europe, has contracted Marlink to upgrade 27 ferries in Scandinavian, Irish Sea and North Sea operation with the latest VSAT services and technology in order to increase available bandwidth and enhance connectivity services.
The upgrade will consist of a full solution Ku-band roll-out on Marlink's Sealink customized VSAT service including equipment upgrades to state-of-the-art of antennas, modems, and routers. The new long term contract consists of 'cutting edge' technology, with next generation HTS (High Throughput Satellite) compatibility. Stena Line will initially have access to 25Mbit/s to meet needs from business, crew and passengers. Marlink is currently operating a test network on the next generation iDirect system including IDX 3.2 and X7, which once approved will provide further bandwidth throughput and service availability.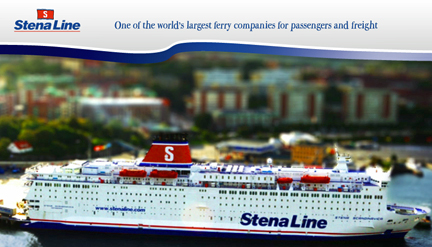 With crew and passenger welfare and efficient operations as core drivers, Stena Line is at the forefront of communication technology on ferries. Marlink has provided communication services on Stena Line ferries since 1996, starting on Stena Saga with a fleet contract following in 2001. Marlink services are used for a variety of applications including telephony and free Internet access for passengers as well as crew, operational connectivity and third party services such as on board ATM and credit card authorization. In this area, the new solution also introduces data backup via Iridium Pilot to ensure payments are completed as usual therefore providing support for businesses on board. The upgraded services and new technology will provide Stena Line with more bandwidth and improved availability of services, ensuring that the innovative operator's vision for high-levels of connectivity on board can be realized. This is supported through the expansion of the fleet's so-called 'Closed User Group,' (CUG) policy. Increased bandwidth will be dedicated to the CUG, which can be dynamically allocated between the 27 vessels in order to meet specific usage demands. For instance, a vessel sailing further offshore may require more VSAT bandwidth than a coastal vessel that can route telephony and data connectivity through 3G and other carriers using hybrid network functionality. Additionally, higher performance and stability during rain fade or inclement weather can be achieved through the use of Adaptive Code Modulation (ACM).
"Connectivity is a key differentiator for Stena Line. High quality telephony and Internet access support our passengers' satisfaction, crew welfare and operational efficiency," said Raimo Warkki, Commercials, Ship communication & systems, Stena IT "We have worked closely with Marlink for several years to develop and apply innovative new communication solutions designed to reduce costs and provide us with the facility to offer market leading connectivity services, which help to differentiate our offering in a very competitive marketplace. So we are pleased that we have joined forces to upgrade our communications even further."
The latest upgrades add to an already cutting-edge communications platform used by Stena Line. The Marlink hybrid network solution significantly improves passenger and crew Internet access with on board WiFi and seamless switching between SATCOMs and 3G (voice and data), whilst enabling a dedicated administration LAN by integrating SATCOMs with GSM 3G coverage and a redundant terrestrial network from the teleport to Stena Line HQ. The network also supports provision of on board 3rd party GSM voice, SMS and data services in addition to routing for 3rd party service providers such as navigation, digital signage and bank ATM devices. Marlink also developed integrated ship-shore telephony where all ships and three shore offices are interconnected via one switch board, to allow calls in all possible directions between land offices and the fleet. All voice calls within this network are free, helping Stena Line to enable value in other areas of its business, such as being able to offer free connectivity for passengers and crew.
The Marlink infosite is accessible via http://www.marlink.com/
For further info regarding Stena Line, head over to http://www.stenaline.com/stena-line