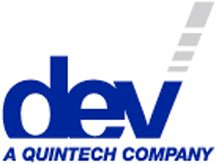 DEV Systemtechnik, a Quintech Company, has announced their ARCHIMEDES L-Band Matrix Switch now comes with an Integrated Spectrum Analyzer (ISA) option, which offers cable head end operations managers even more key features and benefits.
The ARCHIMEDES L-Band Matrix Switch with ISA gives operators the ability to easily and flexibly analyze their RF and satellite signals via a Graphical User Interface over Ethernet or the ARCHIMEDES' Multi-Touch Display. This new option for the ARCHIMEDES Distributing Matrix can be integrated to meet customer requirements.
RF signals at both the output of the ARCHIMEDES Matrix, and from separate equipment, can be analyzed without the need for additional rack space or measurement equipment, of benefit to systems operators in head ends, enabling signal analysis and optimization procedures to be readily performed with the "always available" built-in spectrum analyzer.
DEV's ARCHIMEDES L-Band Matrix differentiators...
Remote Operation: Operators have the ability to easily and flexibly perform analysis of RF and Satellite signals from a remote location without being physically present at the head end. This saves time and labor, which means increased ROI
Space Savings: The Integrated Spectrum Analyzer frees valuable rack space rather than using independent spectrum analysis equipment
"Always-available:" The Spectrum Analysis is always on in real time
Multi-functional Solution: ARCHIMEDES enables analysis of RF Signals from the Matrix, or from separate equipment needed for additional measurements
"Ease of Use" and optional Recording of RF and Satellite Signal Measurements

"Operators gain the most flexible L-band distributing matrix for optimized operation of the head end," said Oliver Herzberger, Strategic Technology Manager at DEV Systemtechnik. "The ARCHIMEDES L-Band Distributing Matrix in 4RU with configurations up to 64x64 is stronger, smaller and smarter with the most competitive cost to performance ratio. The Integrated Spectrum Analyzer option differentiates the Matrix even further."
Please visit DEV Systemtechnik at NAB 2016 – Las Vegas Convention Center, Las Vegas, Nevada, from April 18-21 at booth # SU10421.