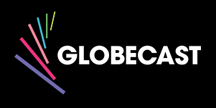 Globecast has partnered with Intelsat S.A. (NYSE: I) to distribute the international 24-hour news platform TRT World into the Americas and Asia.
Under the multi-year deal, Globecast will transmit TRT World HD channel in English to Asia and the Americas via the Intelsat 20 and Intelsat 21 satellites using the Intels23atOne® Fiber Network and teleport services.

Globecast is expanding its longstanding relationship with Intelsat to distribute TRT World content to Asia and Latin America on Intelsat's highly penetrated video neighborhoods. Intelsat 20, located at 68.5 East degrees, is the leading distribution and Direct-to-Home distribution platform serving Africa and the Indian Ocean region. Intelsat 21, located at 302 degrees East, is one of four satellites comprising Intelsat's powerful video neighborhoods serving the Latin America region.