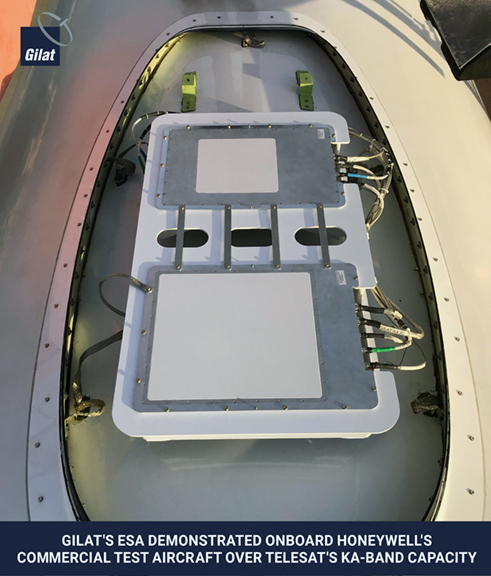 Gilat Satellite Networks Ltd
. (NASDAQ, TASE: GILT) has announced that Gilat's In-Flight Connectivity (IFC) Electronically Steered Antenna (ESA) is the first-ever to operate during flight on a commercial aircraft — this well positions Gilat to win the vast opportunities in the fast changing market of ESA.
The industry milestone was achieved onboard Honeywell's Boeing 757 test aircraft with Gilat's ESA terminal operating over Ka-band capacity on Telesat's Telstar 19 VANTAGE High Throughput Satellite (HTS).
Gilat's high throughput antenna demonstrated remarkable scores with complete gate-to-gate operation. Gilat's ESA has no moving parts, full electronic beam steering and a flat panel with an extremely low profile.
Gilat's innovative design combines the benefits of ESA with the advantages of Ka-band, as highlighted by the performance achieved in this testing. The ESA terminal can serve both GEO and NGSO constellations that operate in Ka-band and features Gilat's industry leading aero modem.
Kevin Calcagni, CTO at Honeywell Connected Enterprise, Aerospace, said the company sees the electronically steered antenna as a key future technology and this test is an important milestone showcasing its potential. Honeywell has been investing in this technology for several years, and in parallel look to industry partners to innovate with the company. The firm is pleased to successfully collaborate with Gilat in this pilot that again demonstrates Honeywell's leadership position in the connectivity market.
Michel Forest, Director of Systems Engineering for the LEO Program at Telesat, noted that the company is pleased to join forces with longtime partner, Gilat, in achieving an additional remarkable milestone, this time using Gilat's ESA antenna over Ka-band capacity on Telesat's Telstar 19 VANTAGE GEO HTS. Gilat's ESA innovations demonstrate the ability to access and unleash the throughput and performance of Ka-band HTS beams with a low-profile antenna as desired by airlines.
Liran Wiener, Director of SatCom On-the-Move Programs at Gilat, added that the accomplishment of the successful in-flight demonstration of Gilat's IFC ESA terminal onboard Honeywell's commercial jetliner using Ka-band capacity on Telesat's Telstar 19 VANTAGE HTS demonstrates the company's innovation and progress for next-generation IFC ESA technology as well as the firm's ability to overcome massive technological challenges. This exciting solution meets the communication needs of the aero market including both commercial and smaller jets that until now could not be served efficiently by existing solutions and opens up great opportunity for Gilat over GEO satellites and Non-GEO constellations.