[SatNews] Just as quickly as satellites fly so goes the migration of many people working in this industry. How to keep tabs on the latest info...
Frequently it's a surprise to learn that a business acquaintance who was at a particular company last year has since changed, or perhaps been promoted. To communicate it's important to ensure that you have all of the latest accurate information. The names and titles of key personnel, their addresses, telephone numbers, fax numbers and e-mail addresses are provided as well as companies, products, services and this 100 billion dollar satellite industry.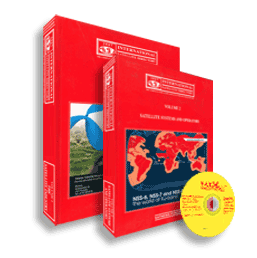 Included in company descriptions are statistical data and detailed information about products and services. Everything you need to either mount a marketing campaign or to satisfy a purchasing need is contained in the Directory.
That's where this 29th edition of the 2014 Industry Directory enters. These two volumes on more than 1,400+ pages provide over 25,000 entries contained in 16 chapters; and uncludes online access to over 850 EIRP, G/T and SFD maps in full color. Includes online access to over 850 EIRP, G/T and SFD maps in full color.
Jump in ahead of your competition with this correct information, and receive a pre-publication discout Price: $495.00 - $50.00 = $445.00 + S/H
The Directory also serves you in two other important ways:
1. Discover new and perhaps better sources of supply for the products and services you now use.
2. Alert you to new products and services you've never used before, creating opportunity to diversify, expand and improve your performance.
Volume 1 —The Satellite Industry
International Agencies — lists all regulators and PTTs and provides statistics and information on each country including its satellite and video standards. Click here for a sample
Manufacturers of Satellites and Space Equipment—over 1,400 manufacturers of every conceivable satellite and space component, including information on launch services.
Manufacturers of Satellite Ground Equipment—lists all the earth station equipment in both the commercial and consumer satellite markets.
Network Systems—Internet service providers and other ground systems networks including VSAT systems, business networks and video-conferencing providers.
PC-Satellite Connectivity—Internet via satellite providers and manufacturers of equipment plus a list of web addresses of satellite companies.
Users of Satellite Systems—satellite programmers, worldwide broadcasters, ISPs and cable systems.
Providers of Satellite Services—distributors of hardware, transmission services, transponder brokers and providers of video, voice and data services.
General Service technical and consulting services, associations, legal services, insurance brokers, research centers, financial institutions, technical training services and publishers.
Volume II—Satellite Systems and Operators
Satellite Operators—full details on every system operator worldwide. Full details on satellites; either operational, under construction or planned.
Geosynchronous Satellites—over 500 satellites analyzed with full details on over 50 variables per satellite. Click here for a sample
EIRP Maps (online access)—invaluable EIRP, SFD & G/T maps giving essential engineering and technical information in color on SatMaps Online.
Uplink Facilities—location and contact information of earth stations worldwide that provide uplink and other transmit and receive services.
What's On Satellite (online access)—transponder loading activity on all operational satellites. Programs, frequency, bandwidth, encryption technology, etc. Click here for a sample.

Buyer's Guide and Index—

a full, comprehensive listing of every company and satellite worldwide.

The INTERNATIONAL SATELLITE DIRECTORY is the most powerful connection for decision makers looking for ways to maximize productivity and profits - It is the must have reference source of the year.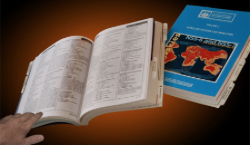 This Directory is recommended by the experts such as...
"The MOST USED book in our library..."
—Librarian - INTELSAT - Worldwide Satellite Operator
"The ONLY Satellite Directory in our library......."
— Librarian - INTERNATIONAL TELECOMMUNICATIONS UNION - Geneva, Switzerland - Worldwide Satellite Regulator
And there is no risk involved because:
We firmly believe that the International Satellite Directory will be so invaluable to you that we guarantee it. Use the Directory and if you are not totally satisfied, simply return it to us within 21 days of receipt for a full prompt refund.

You can purchase the Directory here.