The New York City College of Technology — City Tech — chair of Electrical Engineering, Dr. Mohammad Razani, has recently published through CRC Press the second edition of his book, Commercial Space Technologies and Applications: Communication, Remote Sensing, GPS, and Meteorological Satellites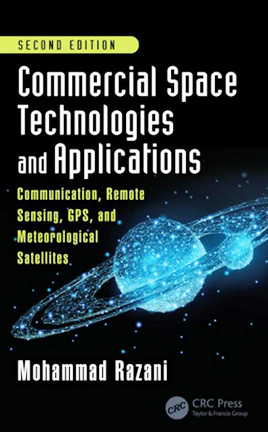 Dr. Razani focuses on man-made satellites and this new edition discusses the space technologies that benefits daily lives as well as explores the ways in which these technologies have improved over the years and how they have impacted this, and future, generations.
Moreover, the book includes extensive study questions and exercises after each chapter for those interested in testing their knowledge or wishing to use it as a textbook in their institutions.
Razani noted, "Outer space is a challenging environment that provides enormous opportunities and benefits to mankind and should be used wisely and for peaceful purposes only."
Dr. Razani has extensive experience in various fields of technologies spanning from satellite communications to microwave remote sensing and information technology. He received his B.S.E.E. and M.S.E.E. degrees from Kansas State University, Manhattan, Kansas, and his Ph.D. degree in Electrical Engineering from the University of Kansas, Lawrence, Kansas. At City Tech, Razani is a full professor and chair of the Electrical and Telecommunications Engineering Technology Department.
Additional information regarding Dr. Razani's book is available at this direct link...